Emmy Nominations 2013 Reactions
Emmy Nominations: Our Snap Judgments
This year's Emmy nominees were announced bright and early this morning, and now it's time to make sense of everything. One of the biggest stories is that Netflix has officially entered the Emmy race, but we've got our own snap judgments too. Keep reading to find out which names we're excited to see on the list and who we're disappointed to see left out.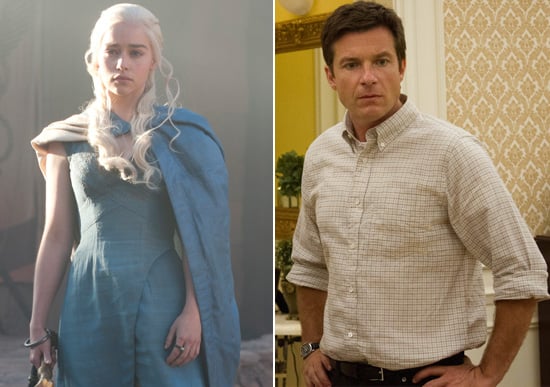 Welcome to the party, Netflix! Political drama House of Cards scored a number of nods, including one for outstanding drama series and one for each of its leads, Kevin Spacey and Robin Wright. But it wasn't the only Netflix series with a nod — we're psyched to see that Jason Bateman earned a nomination for the new season of Arrested Development (his second nod for the role; he was nominated back in 2005 when the show was on Fox).
It's been a good morning for Elisabeth Moss, who not only got another nomination for Mad Men but was also recognized in the miniseries category for Top of the Lake, in which she's incredible. Jane Campion's twisty miniseries also got Peter Mullan a well-deserved supporting actor nod.
Yay for the Mother of Dragons! Emilia Clarke's nomination for playing Daenerys Targaryen on Game of Thrones might be the surprise we're the happiest about. Not only is this exciting for Khaleesi fans, but it's also awesome that the hot show is getting more Emmy love (Peter Dinklage also got his third supporting acting nod for the show). Fingers crossed that she'll say "Where. Are. My. Emmys!" on Emmy night.
Get the rest of our reactions after the jump.
Homeland and Breaking Bad continue to be Emmy darlings, with both shows getting nominations for what seems like their entire casts. We're especially pleased that Mandy Patinkin is up for Homeland after being shut out last year.
Splashy HBO movie Behind the Candelabra continued its buzz by earning nominations for both Matt Damon and Michael Douglas — and they're nominated against each other in the same category. It should lead to some fun friendly competition, plus we can't wait to see Damon on the Emmys red carpet.
We were rooting for Vera Farmiga to get a nomination for Bates Motel, so we were happy to see it come true this morning. She's so fantastic on the freshman series, and even though there is some stiff competition in that category (with seven nominees total), we think she could have a shot.
Now on to the snubs! New Girl is one of the funniest shows on TV, so we were disappointed to see the show shut out of the nominations. We had our fingers crossed for Jake Johnson and hoped for a repeat nomination for Max Greenfield, but alas, it didn't happen. In fact, the supporting actor in a comedy category must have been a tough one to get into, because two-time winner and three-time nominee Eric Stonestreet was also left out. Silver lining? Tony Hale made it in for Veep and Bill Hader got a nod for his final season of Saturday Night Live.