Emmy Winners Complete List 2011
Announcing the 2011 Primetime Emmy Award Winners!
The Emmy Awards have wrapped and this year there were a few repeat winners, as well as some surprises. Mad Men took home the Emmy for best drama for the fourth consecutive year, while Modern Family picked up its second win for best comedy series. The ABC comedy dominated a lot of the evening's other categories, with Julie Bowen and Ty Burell taking home taking home matching Emmys for for best supporting actress and actor. Kyle Chandler was a pleasant surprise winner of the evening, himself admitting he did not expect to win during his acceptance speech for best actor in a drama for his role in Friday Night Lights.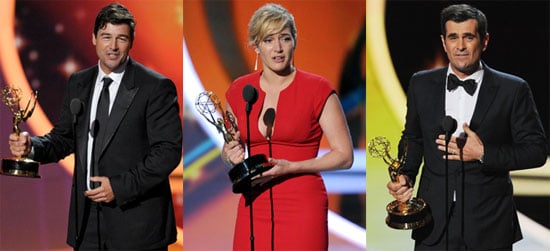 Host Jane Lynch opened the show with a funny musical opener, but it was the Lonely Island boys and a slew of comedians that helped provide the funnier moments of the evening with spoofs and performances. The nominees for the best actress also garnered a lot of laughs, taking to the stage as soon as their names were announced and literally crowning winner Melissa McCarthy. For a complete list of the night's other winners, just read more.
OUTSTANDING DRAMA SERIES
Mad Men
OUTSTANDING COMEDY SERIES
Modern Family
LEAD ACTRESS IN A DRAMA
Julianna Margulies, The Good Wife
LEAD ACTOR IN A DRAMA
Kyle Chandler, Friday Night Lights
SUPPORTING ACTRESS IN A DRAMA
Margo Martindale, Justified
SUPPORTING ACTOR IN A DRAMA
Peter Dinklage, Game of Thrones
DIRECTING FOR A DRAMA SERIES
Martin Scorsese, Boardwalk Empire
SUPPORTING ACTRESS IN A COMEDY
Julie Bowen, Modern Family
SUPPORTING ACTOR IN A COMEDY
Ty Burrell, Modern Family
DIRECTING FOR A COMEDY SERIES
Michael Alan Spiller, Modern Family
WRITING FOR A COMEDY SERIES
Steven Levitan and Jeffrey Richman, Modern Family
LEAD ACTOR IN A COMEDY
Jim Parsons, The Big Bang Theory
LEAD ACTRESS IN A COMEDY
Melissa McCarthy, Mike and Molly
OUTSTANDING REALITY — COMPETITION PROGRAM
The Amazing Race
OUTSTANDING WRITING FOR A VARIETY, MUSIC, OR COMEDY SERIES
The Daily Show With Jon Stewart
OUTSTANDING DIRECTING FOR A VARIETY, MUSIC, OR COMEDY SERIES
Don Roy King, Saturday Night Live
OUTSTANDING VARIETY, MUSIC, OR COMEDY SERIES
The Daily Show With Jon Stewart
OUTSTANDING WRITING FOR A DRAMA SERIES
Jason Katims, Friday Night Lights
OUTSTANDING WRITING FOR A MINISERIES, MOVIE, OR A DRAMATIC SPECIAL
Julian Fellowes, Downton Abbey
OUTSTANDING DIRECTING FOR A MINISERIES, MOVIE, OR A DRAMATIC SPECIAL
Ryan Percival, Downton Abbey
SUPPORTING ACTRESS IN A MINISERIES OR MOVIE
Maggie Smith, Violet
LEAD ACTOR IN A MINISERIES OR MOVIE
Barry Pepper, The Kennedys
SUPPORTING ACTOR IN A MINISERIES OR MOVIE
Guy Pearce, Mildred Pierce
LEAD ACTRESS IN A MINISERIES OR MOVIE
Kate Winslet, Mildred Pierce
OUTSTANDING MINISERIES OR MOVIE
Downtown Abbey
LIST OF WINNERS IN THE CREATIVE ARTS CATEGORIES
GUEST ACTOR IN A COMEDY SERIES
Justin Timberlake, Saturday Night Live
GUEST ACTOR IN A DRAMA SERIES
Paul McCrane, Harry's Law
GUEST ACTRESS IN A COMEDY SERIES
Gwyneth Paltrow, Glee
GUEST ACTRESS IN A DRAMA SERIES
Loretta Devine, Grey's Anatomy
ANIMATED PROGRAM
Futurama
SHORT-FORMAT ANIMATED PROGRAM
Disney Prep & Landing: Operation Secret Santa
ART DIRECTION FOR A SINGLE-CAMERA SERIES
Boardwalk Empire
ART DIRECTION FOR A MINISERIES OR MOVIE
Mildred Pierce
ART DIRECTION FOR A MULTI-CAMERA SERIES
Hot in Cleveland
ART DIRECTION FOR VARIETY, MUSIC, OR NONFICTION PROGRAMMING
2010 MTV Video Music Awards
CASTING FOR A COMEDY SERIES
Glee
CASTING FOR A DRAMA SERIES
Boardwalk Empire
CASTING FOR A MINISERIES, MOVIE, OR SPECIAL
Mildred Pierce
CHOREOGRAPHY
So You Think You Can Dance
CINEMATOGRAPHY FOR A MULTI-CAMERA SERIES
Two and a Half Men
CINEMATOGRAPHY FOR A SINGLE-CAMERA SERIES
Boardwalk Empire
CINEMATOGRAPHY FOR A MINISERIES OR MOVIE
Downton Abbey (Masterpiece)
CINEMATOGRAPHY FOR NONFICTION
Anthony Bourdain: No Reservations
CINEMATOGRAPHY FOR REALITY PROGRAMMING
Deadliest Catch
COMMERCIAL
Born of Fire Chrysler 200
COSTUMES FOR A SERIES
The Borgias
COSTUMES FOR A MINISERIES, MOVIE, OR SPECIAL
Downton Abbey (Masterpiece)
COSTUMES FOR A VARIETY/MUSIC PROGRAM OR A SPECIAL
Gettysburg
Portlandia
DIRECTING FOR A VARIETY, MUSIC OR COMEDY SPECIAL
Sondheim! The Birthday Concert (Great Performances)
DIRECTING FOR NONFICTION PROGRAMMING
Gasland
MAIN TITLE DESIGN
Game of Thrones
MAKEUP FOR A SERIES, MINISERIES, MOVIE, OR A SPECIAL (PROSTHETIC)
The Kennedys
MAKEUP FOR A SINGLE CAMERA SERIES (NON-PROSTHETIC)
Saturday Night Live
MAKEUP FOR A MULTI-CAMERA SERIES OR SPECIAL (NON-PROSTHETIC)
Saturday Night Live
MAKEUP FOR A MINISERIES OR MOVIE (NON-PROSTHETIC)
The Pacific
MUSIC DIRECTION
Harry Connick Jr., in Concert on Broadway (Great Performances)
MUSIC COMPOSITION FOR A SERIES (ORIGINAL DRAMATIC SCORE)
American Masters
MUSIC COMPOSITION FOR A MINISERIES, MOVIE, OR A SPECIAL (ORIGINAL DRAMATIC SCORE)
Mildred Pierce
ORIGINAL MUSIC AND LYRICS
Saturday Night Live
ORIGINAL MAIN TITLE THEME MUSIC
The Borgias
PICTURE EDITING FOR A DRAMA SERIES (SINGLE-CAMERA)
Boardwalk Empire
PICTURE EDITING FOR A COMEDY SERIES (SINGLE OR MULTI-CAMERA)
How I Met Your Mother
PICTURE EDITING FOR A MINISERIES OR MOVIE (SINGLE-CAMERA)
Cinema Verite
PICTURE EDITING FOR A SHORT-FORMAT
THE 2010 ESPY Awards
PICTURE EDITING FOR A SPECIAL (SINGLE OR MULTI-CAMERA)
Lady Gaga Presents The Monster Ball Tour: Madison Square Garden
PICTURE EDITING FOR NONFICTION PROGRAMMING
Freedom Riders
PICTURE EDITING FOR REALITY PROGRAMMING
Deadliest Catch
HAIRSTYLING FOR A SINGLE-CAMERA SERIES
Mad Men
HAIRSTYLING FOR A MULTI-CAMERA SERIES OR SPECIAL
Dancing With the Stars
HAIRSTYLING FOR A MINISERIES OR A MOVIE
The Kennedys (Masterpiece)
CREATIVE ACHIEVEMENT IN INTERACTIVE MEDIA
Oscar Digital Experience
CREATIVE ACHIEVEMENT IN INTERACTIVE MEDIA — FICTION
StarWarsUncut.com
LIGHTING DIRECTION (ELECTRONIC, MULTI-CAMERA) FOR VARIETY, MUSIC, OR COMEDY PROGRAMMING
Vancouver 2010 Olympic Winter Games Opening Ceremony
VARIETY, MUSIC, OR COMEDY SPECIAL
The Kennedy Center Honors
SPECIAL CLASS PROGRAMS
64th Annual Tony Awards
CHILDREN'S PROGRAM
A Child's Garden of Poetry
CHILDRENS' NONFICTION PROGRAM
Nick News With Linda Ellerbee: Under The Influence: Kids of
NONFICTION SPECIAL
Gettysburg
NONFICTION SERIES
American Masters
REALITY PROGRAM
Deadliest Catch
EXCEPTIONAL MERIT IN NONFICTION FILMMAKING
Freedom Riders
WRITING FOR NONFICTION PROGRAMMING
Freedom Riders
SOUND EDITING FOR A SERIES
Boardwalk Empire
SOUND EDITING FOR A MINISERIES, MOVIE, OR SPECIAL
The Pillars of the Earth
SOUND EDITING FOR NONFICTION PROGRAMMING (SINGLE OR MULTI-CAMERA)
Gettysburg
SOUND MIXING FOR A COMEDY OR DRAMA SERIES (ONE HOUR)
House
SOUND MIXING FOR A MINISERIES OR MOVIE
The Kennedys
SOUND MIXING FOR A COMEDY OR DRAMA SERIES (HALF-HOUR AND ANIMATION)
Family Guy
SOUND MIXING FOR A VARIETY OR MUSIC SERIES OR A SPECIAL
American Idol
SOUND MIXING FOR NONFICTION PROGRAMMING (SINGLE OR MULTI-CAMERA)
Deadliest Catch
SPECIAL VISUAL EFFECTS FOR A SERIES
Boardwalk Empire
SPECIAL VISUAL EFFECTS FOR A MINISERIES, MOVIE, OR SPECIAL
Gettysburg
STUNT COORDINATION
Southland
TECHNICAL DIRECTION, CAMERAWORK, VIDEO CONTROL FOR A SERIES
American Idol
TECHNICAL DIRECTION, CAMERAWORK, VIDEO CONTROL FOR A MINISERIES, MOVIE, OR SPECIAL
Don Pasquale (Great Performances at The Met)
VOICE-OVER PERFORMANCE
Futurama
WRITING FOR A VARIETY, MUSIC, OR COMEDY SPECIAL
64th Annual Tony Awards