This Is the End opened in theaters last week, which means we were all finally invited to James Franco's blowout party of the Summer. The film has an impressive cast of hilarious leading men like James Franco and Seth Rogen, but there are even more celebs that only appear on screen for a few minutes. Even if you haven't seen the film yet, you can tell from the trailer that the movie is bursting at the seams with celebrity cameos. In case you missed one or two (or are just dying for some spoilers), check out the star-studded list of actors playing themselves in the movie.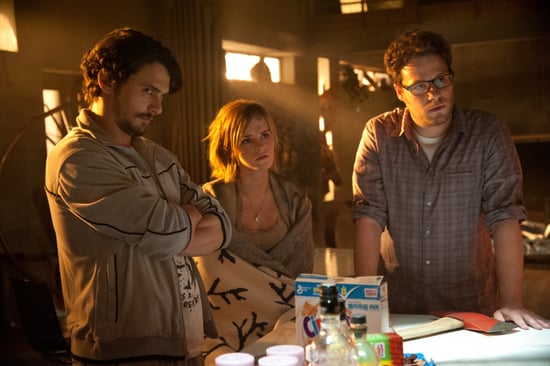 Emma Watson
Emma Watson has the most screen time of all the cameos, showing up first at James's party and then returning in the midst of the apocalypse with an axe in her hand.
Jason Segel
Considering he's one of the Freaks and Geeks originals, it's surprising that Jason Segel really only has one scene in the film, in which he pokes fun at his role on How I Met Your Mother.
Mindy Kaling
Mindy Kaling shows up at James Franco's party with her sights set on hooking up with Michael Cera.
To see lots more cameos (and again, spoilers ahead!) just
.
Martin Starr
Martin Starr is also a Freaks and Geeks alum who sadly has very limited screen time in This Is the End.
Paul Rudd
Paul Rudd shows up a little late to the party and gets killed almost immediately.
David Krumholtz
David Krumholtz is one of the many who are sacrificed in the apocalypse.
Aziz Ansari
Aziz Ansari meets his maker by falling into a sinkhole . . . without one of his hands.
Kevin Hart
Kevin Hart is there to witness Aziz's demise.
Channing Tatum
In one of the most surprising cameos of the film, Channing Tatum appears very late in the game as what we'll refer to as Danny McBride's "sidekick."
Rihanna
Rihanna gets groped by Michael Cera before meeting her demise.
The Backstreet Boys
The Backstreet Boys appear in the film's final moments in what's a very delightful welcome to heaven for Seth Rogen, Jay Baruchel, and Craig Robinson.
Michael Cera
Michael Cera starts some trouble with Rihanna, gets some love in the bathroom, and generally pisses off quite a few people before getting impaled.
Christopher Mintz-Plasse
Christopher Mintz-Plasse has a Superbad reunion with Michael Cera, and Jonah Hill, which is slightly ruined by Cera's obsession with cocaine.