End of Watch DVD Release Date
What to Rent: New DVDs This Week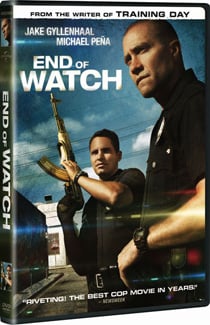 Jake Gyllenhaal and Michael Peña are partners in this gritty, realistic police thriller from Training Day screenwriter David Ayer. Set on the dangerous streets of Los Angeles, the movie follows the officers on their daily rounds as they become immersed in the center of a deadly drug ring. Gyllenhaal and Peña are both excellent in the film, and though their performances are worth seeing, the faint of heart (and those who get queasy with handheld camera footage) might want to avoid this raw drama. The DVD includes deleted scenes, director commentary, and several featurettes.

85%
Director Lee Daniels adapted this mystery novel for the big screen, with star power from Nicole Kidman, Zac Efron, Matthew McConaughey, and John Cusack. Investigative reporter Ward (McConaughey) enlists the help of his brother Jack (Efron) to prove a death-row inmate (Cusack) has been falsely accused of murdering the local sheriff. Kidman picked up SAG and Golden Globe nominations for her sultry performance as the woman in love with the inmate. A featurette, interviews, and the theatrical trailer come with the DVD.
39%
Get one more new release after the jump.
The Office's John Krasinski takes a dramatic turn as a husband who develops a connection with a young filmmaker (Olivia Thirlby) who is staying with his family. Though he's happily married to Julie (Rosemarie DeWitt), the appearance of their new house guest throws an inappropriate wrench in the couple's relationship, and it becomes even more fragile when a patient of Julie's (Justin Kirk) shows interest in her. Lena Dunham cowrote the indie that's at times intense, but also soapy.
37%