Ender's Game Comic-Con Panel
What Would Indiana Jones Say to Han Solo? Harrison Ford Tells Us
After spending so many years playing the iconic Indiana Jones and Han Solo, you'd think Harrison Ford would be a Comic-Con veteran by now. However, the actor made just his second appearance at the convention this week, supporting his new movie Ender's Game. The film adaptation has been garnering a lot of attention from fans of Orson Scott Card's beloved sc-fi novel, but the panel at Comic-Con mostly revolved around one topic: the wonder that is Harrison Ford. Fanboys couldn't help asking all of their geeky questions about Ford's famous characters, so read for the best quotes surrounding the legend and his legendary onscreen alter egos — from Ford himself as well as his costars and crew.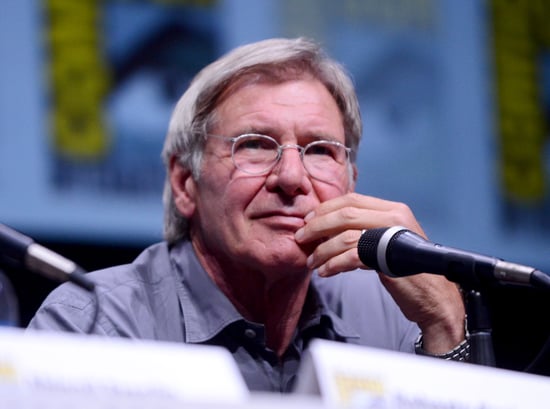 When asked what Han Solo would say to Indiana Jones if they met in real life, Ford rolled his eyes and gave his most honest answer: "Hi. How are you?"
When a fan asked if Han Solo would make a good soldier in Ender's Game, Ford stiffly replied: "I don't think Han Solo would be good as a solider in anybody's army. He's what we call now an 'independent contractor.'"
Panel moderator Chris Hardwick asked Asa Butterfield, who stars as Ender Wiggin, if he was starstruck by Ford. Butterfield replied, "I think, as any actor would, they get over the fact that they're acting against Han Solo, however amazing that is. I'm not really sure if I'm being honest."
When a fan asked what prop director Gavin Hood would keep from the set, he simply said "Harrison Ford."
Hood also teased that Ford isn't always on his A-game, saying "When he's not having a good day, you bring in Sir Ben Kingsley [who also stars in the film] and he makes up for it."