Enlisted TV Show Cast Interview
Enlisted: Geoff Stults Was Cast as "the Most Handsome of Three Brothers"
Fox's new comedy Enlisted is about three brothers stationed at the same military base, and the casting of the three brothers — Geoff Stults, Chris Lowell, and Parker Young — could not be more perfect, if you're talking about chemistry. The three actors bantered, interrupted each other, and complimented each other at the TCA, just like brothers would. The three guys talked about each other and working on the comedy, while creator Kevin Biegel talked about why he wanted to show the lighter side of the military.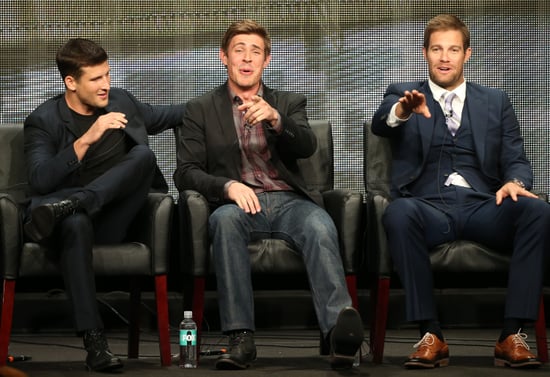 Stults, Lowell, and Young play brothers Pete, Derrick, and Randy Hill, and Stults joked that he was cast to be "the most handsome of three brothers" (to which Lowell quipped that was like "the blind leading the blind"). Since he was cast first, Stults said that he was present for the casting of the others, and while he cracked that "there's way more qualified people than these guys," he got serious to say Lowell and Young were good guys and fantastic actors. Stults even said that the first time he met Young, he felt like he was hugging his little brother.
Lowell (aka Piz from Veronica Mars) talked about how he has been wanting to do comedy for a long time, joking, "I've been wanting to stretch my comedic musicals — they are so weak at this point, I need all the help I can get." Additionally, he said that his character has a sense of humor that's close to his own — "dry-witted, cynical" — and he said it was wonderful to have this opportunity. Lowell also jokingly addressed Biegel's claim that Enlisted will have some dramatic scenes: "I'm not doing any drama."
Creator Biegel, who was a writer on Cougar Town and said Enlisted is "intensely personal" because he also has two brothers, wanted to do a comedy about the military for a specific reason. "Every time you see military in pop culture, it's one of two things: it's either the superhero Call of Duty soldier who has no personality or it's someone so racked by PTSD that they can't even function. Those exist, and that's a reality, but there's also a great swath of people in the middle who do it nobly . . . and they do have a fun time doing it."