Enter the When in Rome Giveaway and Win a Trip to Rome!
When in Rome, the new romantic comedy staring Kristen Bell and Josh Duhamel, brings some fun to the big screen, but it also showcases one of the most romantic cities in the world — Rome, Italy! By taking this fun quiz below based on the movie's trailer which can be seen here, you are automatically entered to win an all expense paid trip, for two, to Rome, Italy!  Yes, Italy! To enter to win, just log in to your PopSugar Community account and take the quiz below.  If you're not already a member, register now. It doesn't matter how you score; if you are logged in and answer all the questions, you are entered. One quiz entry per person; all repeat quizzes will be ignored. Don't forget to tell your friends to join in on the fun. Read all the official rules here! So what are you waiting for? Take the quiz below and get on your way to packing your bags for Italia.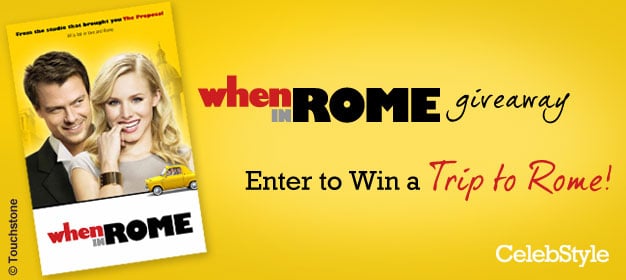 Also, don't forget to check out our new CelebStyle Community and our When In Rome Group. We have amazing looks from Kristen Bell's adorable wardrobe such as her Museum Date Look, Bridesmaid Look and Bridal Look. You can create your own look or show us what you would pack for your trip to Rome in the CelebStyle Community.
This quiz has been closed and is over.
Results
The average score is 2.8 or 56%