Episodes 2011 Winter TCA Panel Quotes and Pics of Matt LeBlanc
Matt LeBlanc "Doesn't Mind Being a Punchline" For Episodes
The Winter TCA got to see the face of an old Friend today, when Matt LeBlanc stopped by for his new Showtime series, Episodes. He was joined by his castmates and showrunners to talk about satirizing himself, the business of Hollywood, and whether Episodes would ever see a Friends reunion.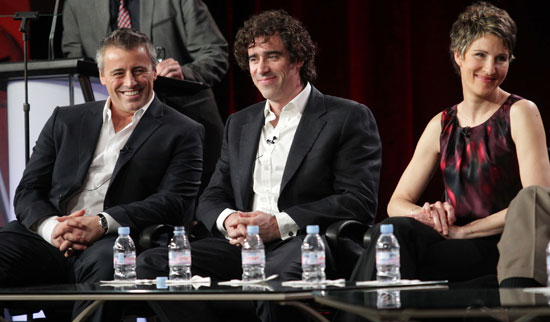 LeBlanc talked about being game to play a satirical version of himself, saying, "I don't mind being the punchline if it's a good joke." He did admit that he wasn't totally sure about the concept of playing himself at first, but when it was clear that the Matt LeBlanc of Episodes is a character, and not really him, "that made it OK for me." As far as what's real LeBlanc vs. the show's LeBlanc, he says that it's going to be "more fun for me to not distinguish between the two and let people make up their mind on what's real and what's not real."
On whether there would ever be a Friends reunion on Episodes akin to the one Curb Your Enthusiasm had for Seinfeld, executive producer and creator David Crane said they wouldn't touch it. "We're not looking to write the other Friends in," Crane said, much to my own disappointment as a Friends fan.
British actors Stephen Mangan and Tamsin Greig play the writing couple who get sucked into Hollywood to find out that they've been misled by industry types like John Pankow's character, Merck. Asked if they'd had similar experiences as actors, Mangan said he had, and that it made him realize there's "something about the system that's a bit odd." Greig, on the other hand, said that this is her first time working in America and has only had good experiences. "I believe people when they say, 'You're fantastic.'"
Miss anything this week? Catch up on all my Winter TCA coverage here!