Eric Stonestreet Quotes From the Emmy Press Room
Eric Stonestreet Talks Cam's Bike Shorts in the Emmy Press Room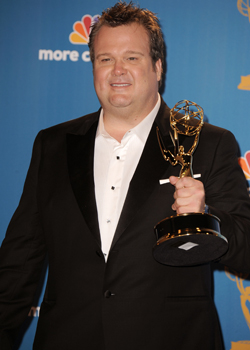 Eric Stonestreet beat out two of his fellow Modern Family stars for the best supporting actor Emmy, but he made it clear in the Emmy press room that his statue will be shared with all of his cast members. He also discussed what's coming up for Cam (bike shorts!) and says he's sending his trophy to his parents in Kansas City so they can look at it every day. Here's more:
Will it be awkward on the set since you beat out two of your cast mates?
Eric Stonestreet: No not at all. You know, we had all joked around before, if one of us won, whether it would be funny to punch someone in the stomach or storm out of the auditorium. This win is a win for our show as it would have been if Jesse or Ty or Sofia or Julie had won. We're proud of our show and we just love love our job so it won't be awkward at all.
What's your reaction to your fans wanting PDA from Cameron and Mitchell?
ES: Well, we appreciate it. Quickly you learn it's way better to have fans talking about caring about your show than not. From a cast perspective we always knew that [writers] Chris and Steve have an arc for these characters, so it's not as though anything was being avoided. They're gonna write the show in a way that they're gonna write the show. The story was pitched last year just like an episode we shot a few weeks ago where I'm bike shorts.
Who influenced your portrayal of Cam?
ES: I looked to my mom because she's a very passionate person and she's excitable. And that's how I influenced my take on Cameron.
What will we learn about Cam next season?
ES: That he likes bike shorts, and that they're not appropriate attire for himself. We're gonna meet Cameron's mom, I know that's an episode that's coming. Continue to raise Lily and tell stories that apply to men and women, gay straight, whatever. We just love that we're telling stories that people like and relate to.