Erika Van Pelt Voted Off American Idol
American Idol: Was the Right Person Voted Off?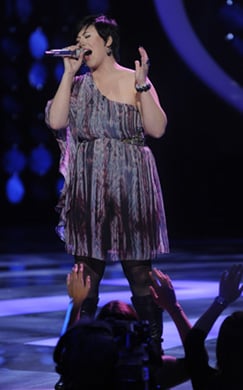 Erika Van Pelt lost something more than her golden locks this week — the American Idol hopeful also said goodbye to her shot at instant stardom. Billy Joel week wasn't easy, and DeAndre Brackensick and HeeJun Han also earned spots in the bottom three. We know if mentor Jimmy had the final say, jokester HeeJun probably would have been sent home.
Unfortunately, it was Erika's rendition of "New York State of Mind" that failed to impress America, and as the judges chose not to use their save on her, (remember, Erika was one of their wild card picks this season) her time on the Idol stage came to an end. What do you think? Were the judges right not to save her? Was her exit imminent?
Photo courtesy of Fox