Everything Must Go Review
Tribeca Takeaway: Everything Must Go
The Tribeca Film Festival continues in NYC this week! I was able to screen and review Ryan Phillippe's The Bang Bang Club a few days ago, and this morning provided a chance to check out Will Ferrell's upcoming movie Everything Must Go.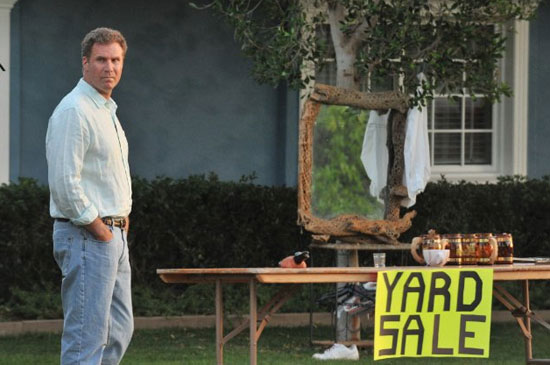 Who's behind it? Writer and director Dan Rush adapted the screenplay from Raymond Carver's short story Why Don't You Dance. It's Rush's first feature, but he nonetheless was able to team up with great talent like Will Ferrell and Rebecca Hall. The film also features a young newcomer, Christopher Jordan Wallace.
What's it about? Will Ferrell stars as Nick Halsey, a down-on-his-luck, alcoholic salesman who was left by his wife and fired from his high-paying job on the same day. His wife can't handle his erratic behavior anymore, so she throws all his stuff out on the lawn and changes the locks, as well as the security code, to their suburban Scottsdale home. Under Arizona law, he has five days to conduct a yard sale — and Nick's luck might change with the help of a neighborhood kid, Christopher Jordan Wallace's Kenny, and Rebecca Hall's Samantha, a pregnant photographer who just moved in across the street.
To read what I thought of the movie, just
.
What did I think? Ferrell said in a recent interview with The New York Times that he found himself exploring genres other than comedy after the recession affected his ability to get certain projects off the ground. Those circumstances apparently freed him to spend five weeks working on Rush's film. Some of Ferrell's other forays into drama (see: Melinda and Melinda) weren't my favorite, but Everything Must Go is a gem. The plot has potential to veer off into heavy territory, but Rush and Ferrell manage to imbue the movie with a sense of playfulness even as Nick's world crumbles around him. There are also a few genuinely funny moments, giving Ferrell fans a little of the humor they've come to expect in his work. Ferrell, in some sense, plays an archetypal everyman — he's in his 40s, has the house on the cul-de-sac, enjoys sitting in his beloved armchair. The essence of the movie is how Ferrell and Rush manage to make Nick Halsey's plight touching and unique through the character's suddenly new circumstances and friendships. The movie was also beautifully shot, making Scottsdale look like a place where dreams can be dashed or, hopefully, revived.