Exclusive Artwork Featuring Amanda Seyfried in Letters to Juliet 2010-03-04 12:30:57
Exclusive Sneak Peek at Amanda Seyfried in Letters to Juliet!
This morning I shared some albums I'm looking forward to this Spring, but a new season also means a new batch of movies to get excited about. Amanda Seyfried's Letters to Juliet fits the Spring romance bill — just check out how cute and carefree she looks amongst those sunflowers in this exclusive new movie poster.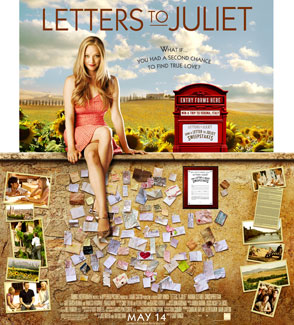 As we learned from the trailer, the movie follows an American tourist (Seyfried) to Verona, where she becomes intrigued when she finds letters asking for help from Shakespeare's Juliet from star-crossed lovers all over the world.
After the underwhelming Dear John, I'm willing to give Amanda another shot at big-screen romance — especially when it includes the lovely combination of an Italian setting and costar Gael Garcia Bernal. Letters to Juliet opens on May 14, but for now take a look at a few photos and let me know if you're getting Spring fever too.
Photos courtesy of Summit Entertainment