Exclusive Buzz Interview With Quentin Aaron, Star of the Oscar-Nominated The Blind Side
Buzz Interview: The Blind Side's Quinton Aaron Talks Oscars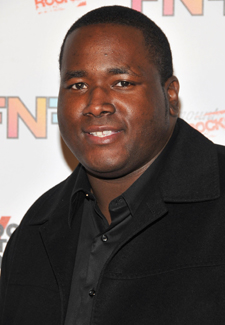 While I was in LA for the weekend covering the Grammys, I happened to bump into a very, very tall Quinton Aaron, the star of The Blind Side, at a red carpet event. You know I couldn't pass up the opportunity to get his opinion on all of the hoopla surrounding the film — don't forget it's Oscar-nominated now! He was incredibly humble as he talked about the movie, his crush on Sandra Bullock, and his thoughts on that golden statuette.
On if he knew that the film would go on to be such a huge hit:
"I didn't have any clue about the success of the film. I just knew that it was a great story, and that it was a lead role and something that I wanted to do. Being an actor, you want to be in a movie that's going to put you to the next level in your career. And that turned out to be the perfect role for somebody my size. It worked out."
For more of what Aaron had to say,
.
On how he felt when Sandra Bullock joined the cast:
"I was like, Wow, Sandra Bullock. Oh my god, The Net, Speed — that Sandra Bullock?! And when it was time for me to meet her, I was thinking I might pass out, because I love her."
On if he gets the chance to attend the Oscars for The Blind Side:
"I've thought about it as a possibility, but I just don't know what it would feel like yet. I'm imagining that it's going to feel like I'm floating above the red carpet instead of walking. It would be cool. I'm just trying to take it all in."