Exclusive Grammy Interview With New Pop Star Ke$ha, Singer of "TiK ToK" 2010-01-30 21:00:45
Buzz Interview: Ke$ha Shares Her Grammy Party Plans
Greetings from LA as I begin my full-on Grammy coverage! Ke$ha is the hot, young thing right now. How do I know for sure? Not only do I have her infectious song "TiK ToK" stuck on a loop in my head, but as I visited the Grammys Style Lounge, she barely had a spare minute when she wasn't being chased by her manager or photographers.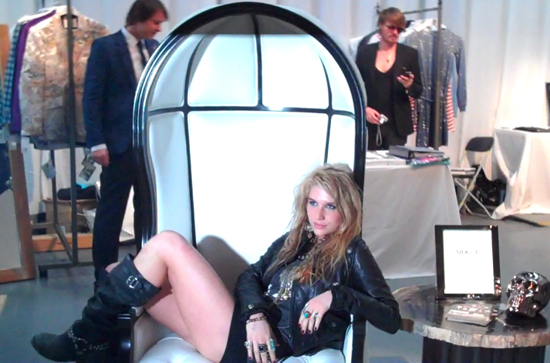 It's Ke$ha's first time at the award show, and this weekend feels a bit like her coming-out party. She's presenting the Best New Artist at tomorrow's telecast, and tonight, she'll be performing at the grand poobah of Grammy shindigs: Clive Davis's. You know I had to ask her how she was going to celebrate (this is the same Jack-drinking girl who sings about feeling like P Diddy, after all), so I managed to catch a quick minute with the singer.
To hear her thoughts,
.
On her hopes for this year's Grammys:
"Honestly? I'm just trying to look hot. I want to perform and make everybody happy and have a little dance party at Clive Davis's. And tomorrow, I'm just really going to try not to fall in heels. That's my main goal."
On her after Grammy party plans:
"There are a few. I think Jamie Foxx is having one, but I might throw one in my hotel room, who knows!"
On what song amps her up before going out at night:
"When I'm getting ready? It's always "Fight for Your Right (To Party)" by Beastie Boys. Keep it old school."
P.S. I snapped this photo of Ke$ha as she posed for cameras. She already has the veteran rock star swagger down, don't you think?