Exclusive Interview With American Idol Judge Kara DioGuardi On Grammy Predictions and Simon Cowell's Replacements
Kara DioGuardi Shares Her Ideas For Simon's Replacement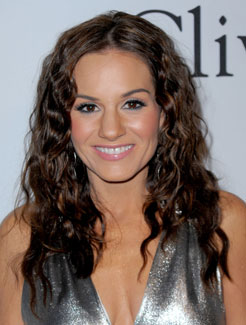 American Idol is pretty buzzy right now with the news that Simon Cowell is leaving after this season, so when I spotted Kara DioGuardi at the Grammys Style Lounge today, I decided to get a shortlist of possible contenders straight from a judge's mouth. I've got to warn you, two of her picks are pretty surprising, but I like 'em!
I also asked her about her favorite guest judge so far this season (hint: she doesn't name Katy Perry), and to use her expertise to guess who's taking home a Grammy trophy at the big show.
On what she's looking forward to:
"Good music. What I like about the Grammys is it's an opportunity for people that don't know about certain artists to learn about them. So I'm always rooting for those artists to just do standout performances that make people want to tune in. I'm really excited about Colbie [Caillat]. I think she's underrated as a singer in the mass consciousness, but I think she's one of the best vocalists out there. She has a very distinct sound, and she has a way to be very emotive on her records."
For the rest of Kara's thoughts (including her Simon substitutes),
.
On her award predictions:
"You never quite know if [the Grammys] are going to go more cred or more mainstream. I would say though, you're going to see Lady Gaga win. She should. She's a phenomenon and needs to be awarded for that, because it's very difficult to break as a new artist, and to be able to do it on that level is pretty impressive."
On her favorite guest Idol judge:
"I had fun with them all, each one brought something special. Neil [Patrick Harris] and I have known each other for a few years, so it's just like hanging with my friend, which was fun. He brought a lot to the table.
On Neil Patrick Harris's reported new game show:
"I think he'd be great on it. He's just tremendous on television. I just think his star's only rising. He's an improv guy, so he's able to be on the spot and think up fun things."
On her picks to replace Simon Cowell on American Idol:
"I said from the beginning that I like the idea of Tommy [Mottola], because he's somebody who really created a lot of stars. Just somebody who has a lot of opinions and a big personality. And there are a bunch of them out there! I can even see someone from the country world, maybe a Garth Brooks or a Vince Gill. I think a lot of people that love country music tune in; they're a large part of our audience, so I think that would be an interesting flip on it."