Exclusive Interview With Britt Robertson of Life Unexpected
Buzz Interview: Britt Robertson Talks Lux on Life Unexpected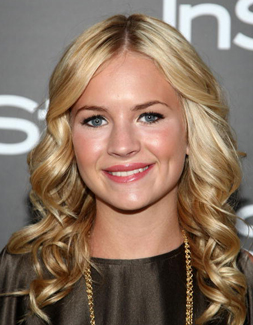 I've been digging the CW's heartfelt midseason hit Life Unexpected, and as of last week's second episode, you guys are too. Tonight we'll be treated to another installment following adopted teen Lux, played by Britt Robertson. I had a chance to chat with Robertson about her character, her hopes for the show's relationships (love triangle ahead), her costars (she's roommates with Shiri Appleby!), and the show's warm reception. Here are highlights:
On the positive reaction to the show: It's really exciting! We came in the second day after it premiered and everyone was so excited, like "Oh we did so well," and everybody's happy. It's just nice; we've been doing it for a few months now and we've been really working and feeling connected to this project, so it's nice to actually have people watch it, and like it, for that matter. It's just a great feeling and it makes us want to work even harder.
On whether she did research into the foster system: I did. I didn't know any foster children, I hadn't experienced group homes or people who had been adopted in their life, so I definitely had to do some research. I went online, I read a lot of blogs. It was important to connect with that side of Lux, and to know people who felt positive about the system and also had negative experiences, because I think that was Lux. There's a lot of good and there's a lot of bad, and to have both sides of the story was really important. I also did some research with a specific program called the Casey Family Program in Pasadena, CA, that specifically gears itself toward 18- to 25-year -olds who are trying to get emancipated and trying to get out of the system, and so I thought that that would be pretty helpful for what Lux is going through.
To hear what else Robertson had to say, just
.
On the appeal of the show: One of the great things about the show is that our characters are really real, and they're different and they're put in these extraordinary circumstances. It's really cool; it's a really great show you want to sort of dive in to, and really feel for these characters. You want them to explore all these relationships and explore all these emotions, and you want to go on this ride with them, and I think that's the great appeal for our show.
On whether she was a fan of Gilmore Girls or Juno, which the show has been compared to: Yeah! I actually didn't start watching Gilmore Girls until it was off the air because my sister became obsessed with all the DVDs, and she was like, you have to watch this, so I finally watched it and was like, wow this is really good, so I really got into it, but I got into it after the fact but it's a great show nonetheless. And Juno was such a great movie, especially for independent film. Ellen Page is brilliant, and Diablo Cody is a tremendous writer, and so it does lend itself to being original and creative and I think that's what our show is.
On her relationship with TV parents Shiri Appleby and Kristoffer Polaha: With Shiri, she does this funny thing — she'll do it with everyone — she's just a very maternal person. She just takes care of people, it's in her nature. So she definitely does that with me, but I feel like offscreen we're definitely more friends than mother and daughter. We're roommates in real life here in Vancouver, and so we definitely have the offscreen friendship; at the same time, she gives me advice all the time, and Kristoffer gives me advice. But we definitely have a great relationship offset, but it's not too far different from what you see onscreen.
On how she came to be roommates with Appleby: She house-swapped with a friend of hers and had a spare bedroom and was like, "You want to live with me?" and I was like, "OK." And it just so happened to work out, and it works for the show. I think now that we've gotten to know each other so well, it really sparks onscreen in the later episodes.
On whether she watched costars Kerr Smith on Dawson's Creek and Appleby on Roswell and the weirdness factor: I did — I was obsessed with Dawson's Creek, and I actually tuned into Roswell in the later seasons. It is a little bit bizarre, but you know, it's been a while since I've watched. Roswell was on eight years ago or something, and Dawson's Creek was a while ago, so it's weird, it's like when I was younger these were the people I looked up to and watched and now that I'm older, they're my parents! It's kind of a bizarre thing. But I see them as who they are as people and not really who they are as characters now, but originally it was kind of weird.
On who she wants to see Cate with: I think Lux sort of wants Cate and Ryan to be together. I don't think she really sees a Cate/Baze relationship until later in the season; I think she keys into it a little bit, as does everyone. I think for me personally, it's hard because I think Cate and Ryan have such good chemistry, and Cate and Baze have such different chemistry. I feel like my mind changes every scene that I see them in. They all do such a great job of that, sort of coaxing the audience one way or another.
On frustrations she has with her character: In the beginning episodes Lux can't seem to feel OK with having these people as being her parents after 16 years. They were just her biological parents for so long, and they become her real parents and they start parenting her, and I think she doesn't know how to handle that, and she becomes a little bitter and angsty in the beginning because she has all this pent-up aggression from the past, and I think that's frustrating because I'm like, "Get over it, just love them already, they love you!" But it's hard because she has to go on this journey to find herself and reconnect with her past in order to feel like she's able to be their daughter.
On what 's coming for Lux: She goes to a new school, she meets new friends, a new guy. She ends up dealing with her past family and sort of incorporating them into her new family, and just sort of settling into her own and settling into this new family. You'll see what her life was like before meeting Cate and Baze and get a glimpse into her past.
On being happy her show is wholesome: It's exciting that it's a show my whole family can watch — my brother and my sisters and my mom and my dad — they can all watch it as a family and they're not like, "Close your eyes" or "Don't listen to that"or "Don't do that." It's something they can watch and I can be proud of and they don't have to shield their eyes or anything.