Exclusive Interview With Brooklyn Decker About Filming Just Go With It With Adam Sander and Jennifer Aniston 2010-06-19 10:30:16
Exclusive: Brooklyn Decker Was "Very Intimated" by Adam Sandler While Filming Just Go With It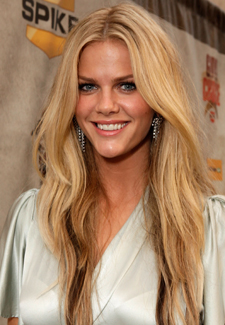 After wrapping Just Go With It with Jennifer Aniston and Adam Sandler, model Brooklyn Decker recently sat down with my friend Pop to discuss everything from working with Ms. Aniston to what Heidi Montag is really like. She even shared the workout tips that prepped her for those bikini scenes on set!
Here, she lets Buzz readers in on why she wanted to give acting a shot, and why she found Adam Sandler pretty intimidating. Goofy Adam Sandler? Really? Listen in:
PopSugar: What made you want to try acting?
Brooklyn Decker: I've always been interested in acting, but it's something I never thought I could do. It was something I always wanted to study before I really, really got into it. I just got really lucky with this opportunity. I've auditioning quite a bit actually over the last few years, and was sort of afraid of the whole model-turned-actress cliche, so I kept it under wraps that I was auditioning. I went through the auditioning process for this role and got lucky enough and got it! It was the best learning experience, the best education possible.
PS: I heard you were in the running for Transformers 3.
BD: Action is really high up there on the list, I would love to do that. I think it really teaches you the physical side of acting, which would be really interesting and I'd love to do drama as well. There's something nice about comedy, knowing you can laugh everyday on set. But I think there's something also very simulating about action as well, which I'd like to explore.
To hear what Brooklyn has to say about working with Adam Sandler, just
.
PS: What was it like to work with Adam Sandler?
BD: I was very intimidated! Being around people who are the best at their craft, it's very intimidating. I remember starting out modeling and meeting Heidi Klum and being so intimidated, I actually asked her to take a picture with me —  she'd never remember that! Anytime you meet someone who's amazing at their craft, it's very intimidating. But he's so welcoming, and he's so generous with the advice that he gives that you feel instantly at ease when you're with him.
PS: Did you guys ever goof around on set?
BD: We had some really great guest stars. Nick Swardson played a part, who's wonderful. We had Nicole Kidman come on set, and we had Dave Matthews, we had really funny characters. So every day was just tons of laughs, with people improv-ing and making different jokes, so it was really fun to see a film come together naturally in that way.
PS: Was it comfortable shooting in your bikini?
BD: They were like, 'Oh, this is more the costume you're used to. . . ' I did some bikini scenes, and they were funny! It's going to be funny when people see the actual movie come out, because I know pictures came out and you see girls in bikinis and you instantly think, 'Whatever.' But when the movie comes out, you see it's in a very funny way, and we're poking fun at ourselves. It was fun. I definitely upped the training for that scene.
PS: Do you have any movies planned after this one?
BD: Not yet! We're hoping for one in late Fall or early 2011, so unfortunately I can't talk about them because it's all super-secretive! We're hoping for another film to be released in 2012, but we'll see!