Exclusive Interview With Bryan Greenberg and Scott Porter, Stars of The Good Guy
Buzz Interview: Good Guys Bryan Greenberg and Scott Porter
Bryan Greenberg has a lot on his plate right now. I recently spoke with the actor about his HBO project How to Make It in America, but I also had the opportunity to pick his brain about his latest big-screen role in this Friday's The Good Guy, along with his costar Scott Porter.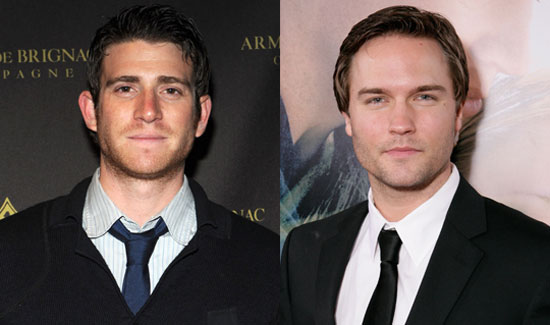 Greenberg stars as Daniel, a social wallflower stuck in the middle of the hustle and bustle of New York's Wall Street. Enter Tommy (Porter), a charismatic finance all-star who takes Daniel under his wing to teach him the ropes at work — and with women. Alexis Bledel costars as Tommy's new girlfriend who Daniel is crushing on (love triangle alert!).
Greenberg and Porter told me about how they adapted to playing such polar opposite characters, the Wall Street floor, and why good guys come out on top.


Greenberg on Daniel's geeky persona: "Those sneakers were mine! The wardrobe, you look in the mirror and you're like, 'Oh, god.' The hair, the whole thing — I sent pictures to some friends back in L.A. while we were shooting, and they were like, who is that?!"
Porter on his character, Tommy: He's a salesman, that's what he is, and he sells what he thinks you need to keep him around. Does that make him a good guy or bad guy? He's not exactly himself — I'm not sure he even knows exactly who he is — but that doesn't make him bad or good, that just makes him a little bit flawed. Well, a lot flawed.
For more from the actors
.
Greenberg on being immersed in Wall Street: "I was hanging out with Hedge Fund guys, and I went on a floor to see how these guys handle the phones. They have these mute buttons on the phones, and they're talking on the phone, but they're also having conversations all around them. It's a lesson in multitasking, and they always have their hands on their desk. All these guys they have toys, and they're playing with like, little squeegie balls and stuff like that, and being active and drinking Red Bull. It's crazy! It's a totally different world that I had no idea about."
Greenberg on the movie's message: "I liked that it's a movie about perception. A lot of these characters don't change, but the audience perception changes. That kind of fascinated me. It had me thinking a lot after I read [the script], and after I saw the movie, I was like, 'I'm thinking more about this than I thought I would be.' 'Cause it's a pretty light movie, but it does make you think."
Porter on what he took away: "When I watched the movie, I thought so much about how it's really about Beth. You can see her being a little unsure in parts about Tommy, and it's really about trusting yourself, especially in a place like New York. You have to know yourself and trust yourself, and that's the problem with Tommy. But the people who do know themselves like Daniel and Beth end up really coming out on top."
Porter on if the old adage that "Nice guys finish last" is true or false: "In life, no. In careers, sometimes yes, and it's an unfortunate bi-product of the principles our nation is built on. It's the American dream to go out there and make your own way. You make your own rules, you make own money, and you make your own worth. And sometimes people get stepped on, those who are too nice. But that being said, in life, nice guys never finish last."