Exclusive Interview: Ed Westwick Says He Wants to Play Robert Pattinson's Vampire Brother
Exclusive Interview: Ed Westwick Talks Twilight Vampires and the Fate of Chuck Bass
As the TCA rages on in LA, we had the opportunity to catch up with Ed Westwick at the cocktail party celebrating CBS, The CW, and Showtime. The actor better known as Chuck Bass had plenty to say about his new Gossip Girl costars, filming in Paris, and why Chuck is about to lose his signature swagger. He even had a few kind words to say about Kristen Stewart and the role he'd like to play opposite Robert Pattinson. Check it out.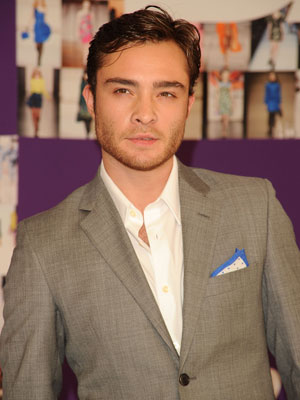 PopSugar: When you read the season finale script and saw that you were going to get shot . . . were you nervous?
Ed Westwick: I thought it was a great way to finish the show. Everything kind of spiraled out of control, Chuck's world was falling apart, and it can't get any worse. It was kind of like I got stabbed in the back. But it picks up, new season, I'm in Paris.
PS: How was that?
Ed: Wicked. We had a really good time shooting there. The scenes are cool, it's in the first two episodes. And then he's trying to be a new man, Chuck Bass. He's trying to reinvent himself.
PS: Is there a fun new dynamic with the new characters on the show?
Ed: Yeah, to a degree. Chuck Bass is so alienated himself, he's kind of got to rebuild bridges all over the place. But it was cool. There's a lovely new actress involved, actually, a couple of lovely new actresses involved. It will be great. I'm looking forward to seeing how people actually perceive it.
PS: One of my favorite things about the show is all the Chuck Bass one-liners. Do you get to ad lib that at all?
Ed: No, no. I'm not witty enough for that. They're really fun, aren't they? The character is still a lot of fun to play, and he's really interesting to me after everything that's happened at the end of the third season. It's gonna be a cool direction to go in.
PS: Is it fun getting to wear all the Chuck Bass suits?
Ed: It's like wearing a uniform to work. It's cool, but it's a little uncomfortable in summertime heat.
PS: In a recent interview, you mentioned that Kristen Stewart isn't your type.
Ed: I don't know why that all went crazy! I'd love to clear that up. I think she's a great, great, great girl, who's gorgeous and talented, and I don't know what the hell happened. Clear that up for me, please!
To see what else he had to say about Robert Pattinson and what's to come for Chuck Bass, just read more.
PS: Maybe you need to get her on Gossip Girl.
Ed: She's not going to do that.
PS: Gossip Girl's hot! We all love it.
Ed: Maybe if I had vampire teeth.
PS: Maybe you need to play a vampire with that other hot Brit.
Ed: We should play brothers. Me and Rob Pattinson should play brothers.
PS: In Breaking Dawn?
Ed: Is that the next one? I'll put the call in. Let's do it.
PS: You mentioned we're going to see another side of Chuck Bass next season; what's going to be different about him?
Ed: As I said, after what happened at the end of the last season, his whole world kind of fell apart so you knew it. There's a lot of self-blame there. When that happens, you're going to look at yourself, and try to build a new person.
PS: Is he going to lose some of his Chuck Bass swagger?
Ed: I think maybe he does. Maybe he does a little. Maybe it's the swagger that brought him the trouble, but who knows? Maybe it'll come back, you know?
PS: Do you think it's only a matter of time before Chuck and Blair get back together?
Ed: I don't know. They're two characters who seem like they're cut from the same cloth. Maybe it's inevitable. Star-crossed lovers.
PS: Do you like getting to work with new love interests for Chuck?
Ed: Yeah, Clemence [Poesy] is fantastic to work with right now. She's amazing. So it's an absolute privilege to work with someone like that every day. Yeah, it's great right now.