Exclusive Interview With Katee Sackhoff About 24, Battlestar Galactica, and Avatar
Buzz Interview: Katee Sackhoff Sees a New Day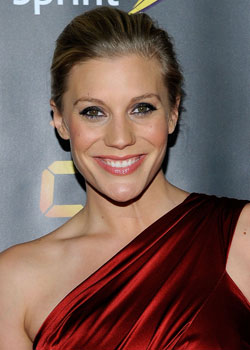 You probably recognize Katee Sackhoff from her iconic role as Starbuck on Battlestar Galactica, but the actress is ready to keep her feet on the ground as a newcomer on 24. Sackhoff will be playing Dana Walsh, a CTU analyst with some skeletons in her closet. Season eight kicks off its big season premiere tomorrow night, and I recently had the chance to chat with Katee about her character, Kiefer Sutherland, and why she still hasn't seen Avatar. Here are highlights:
On landing her new part: I was excited. When it was presented to me, I had another offer to do a TV show at the same time. As a fan of 24, I was so curious. I dug a little deeper and talked to the producers about it, and obviously I had auditioned for it. Ultimately it was such a great move for me, creatively and career-wise. I just kind of jumped at it, it was fantastic. And I continue to be excited about it, it's great.
On the sense of camaraderie on the set: It's all like a big family. 24, if there's anything they do well, it's welcome new cast members. They have so many new cast members that come on every single season that they're very good at it. Especially Mary Lynn [Rajskub], she's like "Hey, welcome aboard, I hope you don't die!" So, it's great. I've learned over the years to treat this as a job and not get too caught up in it and emotionally attached to anything. It's difficult but it has served me well on 24, because you never know what's comin'. I'm very aware that my place on 24 and in this business is finite.
On keeping things light on the set: Kiefer has Air Supply "All Outta Love" on his cell phone. So every time it rings, we hear Air Supply. That kind of starts it. Like, at one point we all broke into song. So it's great. Kiefer is a very, very, very funny man. I know that on the panels he doesn't show that side of him, but he is absolutely hysterical and everyone on the show has a great sense of humor. It's pretty easy to have fun.
To see what else Katee had to say about loving sci-fi fans and leaving Battlestar in the dust, just
.
On preparing for a role when you never know what's next: You just have to be committed to every moment that you play. It's a blessing and a curse, but I knew a little bit more about my character than most people would going in, just because I had so many questions about it. It hasn't shocked me too much, and I kinda knew how to play her. But it's definitely something that you have to think about, that they could turn you into a German tomorrow. You have absolutely no idea what's gonna happen.
On BSG's rabid fan base: I love the fans. I owe Battlestar and SyFy channel so much that the only reason I would be sick of it is if I didn't have something to look forward to right now. Because I do, I get to look back on it fondly instead of with resentment. It's great. I love the show, I love the fans. It's phenomenal. I have no desire to go back — it was two years ago, and I've definitely left it behind me, and I've moved on to hopefully just as exciting work.
On loving sci-fi: I grew up watching Star Trek, because in my family we had one television and two channels. So it was between Star Trek and the mating rituals of beavers. With a school teacher for a mother, you're kind of like, "Dang it, please don't make me watch another beaver special." So I definitely love sci-fi. The first movie I ever remember watching with my father was Alien. Sigourney Weaver is still my favorite actress of all time. I could only hope to have the career she's had. She's pretty amazing.
On Avatar: I haven't seen Avatar yet, 'cause I'm avoiding it until people stop seeing it. I'm not very good with crowds. I went to go see Sherlock Holmes over the holiday, and there were so many people in there. I cracked open my beer and everyone turned, and I was like "Why is everyone looking at me? Oh, it's because I snuck beer into the theater. I forgot about that." I like to sit there and pull out my food from home, like my veggie snacks and my Miller 64. I don't want to be judged. So I'm gonna wait until people stop seeing Avatar, and I'll be like the second billion dollars they make.
Will we ever see her in comedy? I don't see anyone hiring me for a half hour comedy in the near future. Which is fine, I enjoy drama. And for right now, I'll do what people want to see me do. Which is beat people up.