Exclusive Interview With Reality Star of High Society, Tinsley Mortimer
High Society's Tinsley Mortimer Talks Reality, Outrageous Comments, and Bad Behavior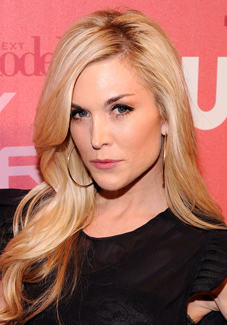 Did you catch last week's premiere of High Society? On the latest reality show set among the rich, Tinsley Mortimer is the girl in the center — an NYC socialite going through a public divorce with a cast of outrageous friends, enemies, and frenemies around her.
I got to chat with Tinsley about the show and upcoming episodes today — and of course, her response to the wildly offensive behavior of costars Jules Kirby and Paul Johnson Calderon.
On controversial friends Jules and PJC:
Look, nobody said that these were my best friends, obviously. There are people on the show that I'm closer with than others. Paul is somebody that I've known for years — he used to date my former husband's brother — he is like that, but he's actually really funny and he just kind of amps it up and plays it up. With or without the cameras, he's going to do those sort of things. But he just kind of likes the attention; he's just kind of playing and being kind of frivolous and careless and those things. He's a fun guy and I don't spend so much time with him all the time, but I do see him out a lot at night and he can be fun.

Jules — obviously that [Kirby's use of the N-word in the premiere] was tremendously shocking. I didn't see any of that stuff because I wasn't there when they were filming it, so to hear her comments is outrageous. And of course I've never been around her when she's ever said anything like that, but I would never tolerate that. Again, I'm friends with her through my sister, I have spent nights out with her, but I've never heard her say that. She did, in fact, say those things, and it's not accepted; it's really shocking and horrible. I think you'll see that the show doesn't tolerate her behavior either, and she will inevitably face the consequences of her behavior.
To read more of my interview with Tinsley, including why she's beefing with Devorah Rose and why her Prince boyfriend flipped out last week, just
.
On why villainess Devorah Rose dislikes her:
Devorah came on the show and started to say a lot of things that are completely untrue. Of course that's going to cause tension and drama, and it was completely shocking to me. I was never friends with her and certainly now never will be after the things that she said. But it's difficult — to come out on television and lie about somebody . . . I really don't know why she did it, I have no idea.
On whether we'll see more of her boyfriend, Prince Casimir, and why he freaked out in the first episode:
I don't want to spoil anything, but you will see him a bit. It's crazy — it's weird to see, on a reality show, the cameras being referenced, because usually you want them to be behind the scenes, of course. And he is very uncomfortable with the cameras — when they got too close, he started to freak out. I was also completely shocked, I remember being there at the time and being so shocked by his behavior, but then watching it, I was floored. I can't even believe how he behaved, it was crazy. You will see him, you will see him a bit more.
On what viewers can look forward to this season:
My mom becomes this crazy character that says a lot of things that are upsetting to me, and you'll see a lot more of that. There's Jules, God, she's yelling at the housekeeper at the hotel where she lives with my sister — shocking. We'll see what happens with me in Paris. And certainly there's some girl fights, and some drinks getting thrown, some other crazy stuff. But it's not all about the craziness — there's other fun moments, fashion moments, and all that. It is a cutthroat world and people are always trying to get in top and it creates a lot of situations that are pretty dramatic.