Exclusive Interview With Stars of 10 Things I Hate About You LIndsey Shaw and Ethan Peck
10 Things Stars Lindsey Shaw and Ethan Peck Talk Second Season, Remake Pressure, and Making Out
As much as I bellyache about remakes, I have to admit that last year's 10 Things I Hate About You, ABC Family's small screen version of the beloved 1999 movie, was a huge surprise for me. The characters are unique enough from the originals, but the show still exhibits the same fun quirkiness. Happily, the series is back for its second season tonight, and I was able to chat with stars Lindsey Shaw and Ethan Peck, who play Kat and Patrick, about the return of the show and whether they still feel pressure to live up to the film.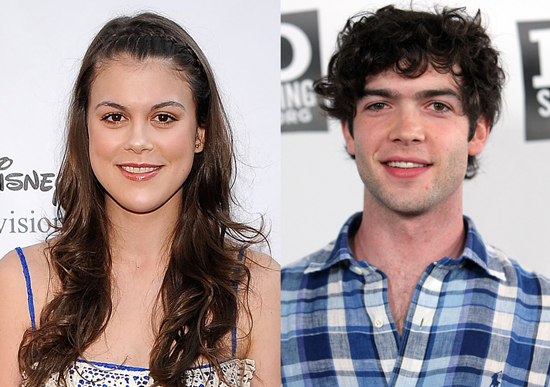 Lindsey, on what we can expect in the premiere:
You can expect to come to the beach with us. We pick up exactly where we left off, which is awesome because I think it was kind of a teaser. And we pick right back up on the beach, making out. How better can you start off?
Ethan, on the premiere:
You gotta watch!
Lindsey, on being complimented about the show's success:
We really have worked since its inception to hear things like that. Obviously coming from a remake, you have a whole slew of things stacked against you. Nobody wants to see a remake because it's everybody's favorite movie. But we came at this and wanted to create something different and entertaining, and I think we've done that.
To read the rest of what Lindsey and Ethan had to say, including how things will stay hot for their characters and whether Ethan will ever perform a big song-and-dance routine like Heath Ledger, just read more.
Lindsey, on what's next for Kat and Patrick:
I think something really nice that they explored in the first part of the season was maintaining their friendship, growing their friendship, learning more and more about each other. They really just get in trouble when this intimacy thing starts, but you get to see more of their friendship, which is really unique and different and especially cool for Patrick, who is quite mysterious.
Ethan, on what's next:
Yeah, I think the relationship between Kat and Patrick essentially intensifies. That's the best way I can put it.
Lindsey, on whether the pressure is less coming into the second season:
I think that the pressure is equal, but it really comes from us now to evolve the show and make it something you want to continue to watch. A show with a format like ours can get stale, only because the characters stop evolving and you kind of stay stagnant.
Ethan, on the same pressure:
I think the pressure really always only came from within, speaking for ABC Family and for the television show, because we knew that we weren't trying to replace anything or anybody. We all came to it seriously and with big open hearts and open minds and I think that's why we are where we are today.
Lindsey, on whether the writers ended the first season finale fearful that the show wouldn't come back:
I think everybody had that fear because the network wasn't giving us anything concrete to go off of. We didn't have an order for any more episodes when we left, so I think it was very much written so we could say adios for good if need be.
Ethan, on how they celebrated when they heard they were returning: We all got together and drank soda and ate hamburgers. And then we played Monopoly.
Lindsey, on whether she was surprised the show got picked up for another season:
I was and I wasn't. In the back of my mind I always felt like the show was too good not to come back, but you never know what people respond to and what they like.
On whether Kat and Patrick's relationship is going to be a rocky road:
Ethan: Oh you know it is.
Lindsey: Absolutely. Absolutely, But that's the way they like it.
Ethan: (laughing) That's the way they like it.
Ethan, on whether he'll ever perform a song and dance routine similar to Heath Ledger's in the movie:
No, I don't think so. The Patrick that we have created wouldn't do that. You know that was something Heath did that was so wonderful that will remain with him.
Lindsey, on how her Kat is different from the film Kat:
Julia Stiles plays Kat very much as a feminist, very self-righteous, and I think the Kat that I try to portray tries to be a little edgier. She's probably a little more invested and gets a little more caught up than I think Julia Stiles's Kat ever would. Obviously because it's a series and we have a little more time to figure out all of her neuroses, but if anything I think she's a little feistier, maybe edgier.