Exclusive Interview With Youth in Revolt Stars Michael Cera and Portia Doubleday
Buzz Interview: Michael Cera and Portia Doubleday on Starring in Youth in Revolt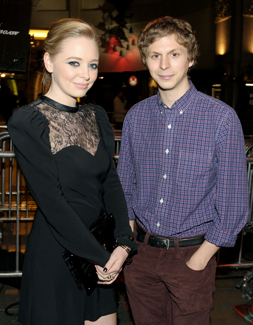 C.D. Payne's novel series Youth in Revolt has garnered many fans since the first book was published in 1993 and this week the film adaptation hits theaters. Michael Cera stars as the antihero Nick Twisp, who creates a bolder identity to get his dream girl: worldly but small-town dwelling Sheeni, played by Portia Doubleday. Cera and Doubleday are among the book's fans, and I recently got to sit down with them and talk about their experiences making the film.
Michael, on why he was drawn to the adaptation: I love the characters, I love the voice, it's a really fun part, and the book is hilarious. And it's very cinematic too. I think you can really see it making a movie as you're reading it. I read a few books that sort of almost read as false naivete, which is really sort of annoying when you're reading books that are written in the voice of teenagers, and this was not guilty of that at all.
Portia, on making Sheeni sympathetic: Miguel [Arteta] is an amazing director and I definitely relied on him to define that, to define my not being a bitch — and still being likable. He was amazing; he really helped me. It's also just the story. It was easy for me to key into the vulnerability, I think — yes, she's persuasive and a little bit manipulative, but at the same time in a place where she doesn't want to be — in a trailer park, and needs an escape. I think that's why it's tender, because she finally kind of finds someone, and her idealistic fantasy isn't really ideal anymore. She finds an escape in real life, and someone to escape life with her.
To find out what else Michael and Portia had to say about the movie, just read more.
Michael, on whether he was uncomfortable in Francoise's costume: It wasn't uncomfortable. The contacts were strange because I've never had those in my eye, and it's a foreign object in your eyes. It's weird at first but you kind of get used to it. It was fun, I really enjoyed having them on, and the same with the mustache, the clothes — it was just a lot of fun to put that stuff on.
Portia, on what she likes about Sheeni: So many things. I'd like to be more like her. Again, it's in the writing. She's just a great female character. So many things; she's confident and bold and sensitive at the same time, and smart — and the list goes on. . .
Michael, on being an advocate for the book's adaptation: I was definitely actively trying to be a part of it. I think it was in production for a few years before I was brought on.
Michael, on whether he related to feeling like an outsider: Only slightly; I mean, I think everyone kind of feels like that growing up. Everyone really thinks about how everything relates to them or affects them, so that's kind of universal.
Michael, on whether he felt pretentious as a teen, akin to the characters: I don't think so. I don't remember feeling pretentious. But I don't think they [Nick and Sheeni] are really pretentious; I think they can't relate to anyone around them that's their own age, and their only way of having any sense of themselves is to sort of immerse themselves in these movies and books.
Portia, on whether she thought the teen characters are pretentious: I don't think I ever felt that way with her. I think it's just their truth. I guess I can associate myself with my truths, but they are far less interesting than what's in Sheeni's apartment.
Michael, on whether he could relate to Nick: Somewhat. That's kind of what being an actor is: Getting to not be yourself for a bit and not seem crazy.
Portia, on Sheeni's relationship with her parents: I think she cares about them but doesn't know how to relate, and it's troubling when you get to a point in your life where people that you love can't have conversations that you would really like to have with them — about who you are and what you'd like to be. I think she cares about them, and cares about their well-being at the same time. I don't think they really know who she is at core.
Michael, on whether he'd want to play another over-the-top character: If the project seems right.
Michael, on whether he wanted to feel an alternate reality, like Nick's: No, I didn't feel that way. I see the appeal of it, though.
Portia, on wanting to get out of where she grew up like Sheeni: I grew up in LA. I had to escape LA!
Michael, on liking his day job: It's really nice to be working, and I really love being on set. I've been working since I was nine, so I really feel comfortable on set and it's nice to be able to keep working. I've had some really good jobs.
Michael, on audience reaction at the screenings: People have laughed a lot in the screenings, which has been really nice. They've seemed really positive afterwards.
Michael, on his hopes for how the movie will be received: I hope they like it. I hope that they feel satisfied. We've had really good audience reaction so far. It'd be nice if that kept up.
Michael, on his level of satisfaction with the final product: I'm really happy with this film, and it was a really great process. It was a really special one for me.