Exclusive Spoilers From Parenthood Season Two
Parenthood Cast Welcomes Billy Baldwin, Talks Babies, and Reveals More Season 2 Secrets at TCA
Before the panels started this morning, we kicked off the Summer TCA with a visit to the Parenthood set! It was such a treat to tour the Braverman homes, where Peter Krause and Monica Potter surprised us in their faux kitchen to chat about life on set and show us embarrassing family photos around the house. Craig T. Nelson and Bonnie Bedelia also joined us in their fictional house, where Bonnie shared the fun fact that this is the third time she and Nelson have played husband and wife onscreen.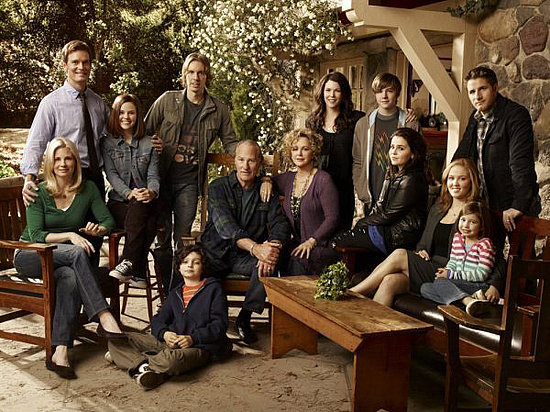 Next it was on to the panel, where the cast talked about how much they love working together. Executive producer Jason Katims revealed that Billy Baldwin will be joining the cast as Adam's boss (and a love interest for Lauren Graham's character, Sarah). He also said that we'll see another baby this year, a new relationship for Haddie, and explore a long distance relationship for Crosby and Jasmine. Max Burkholder was adorably poised talking about working so hard to portray autism correctly while little Tyree Brown (who plays Jabbar) thinks his onscreen parents have the best relationship on the show.
For more spoilers and fun, just keep reading
Katims on what's coming next season: We'll explore Crosby, Jasmine, and Jabbar. It's continuing to see what's going to happen with that family: how do you deal with a long distance relationship? We're introducing more of Adam Braverman's environment at work, Sarah now works with him. And we also are introducing his boss, who will be played by Billy Baldwin. We'll explore a new love interest for Haddie, who will challenge Adam more and in different ways than Steve. Another baby is also coming.

Dax

Shepard on loving the show: I'm a fan of the show, I watch it on Tuesday nights. Thank God for my fiancé it's not a piece of crap, because we have to watch it on Tuesday nights. . . I see Peter Krause and I'm like, why can't I have that line with him?! Anyone, everyone on the show you want to work with at all times.
Shepard on working his large tattoo into the show: We're renting it. We have a pretty reasonable residual on it. Yeah, I covered up a previously terrible tattoo with this one about three years ago. And before I was cast, I said it was imperative I could have the tattoo so I didn't have to sit in makeup another two hours a day. I hate to use the word tribal, but other people have used that word to describe my former tattoo. I have a knack for predicting what tattoos will be douchey ten years from now: Lake Havasu 2010!
Peter Krause on his dancing scene last season: It was so much fun. I danced quite a bit that day and called myself "Fever." I thought it sounded like something that would have sounded cool in high school.
Lauren Graham on her love for the show: I don't know that there's a central theme. It's complicated. What I love about our show is that it's not stereotypical because of the way we're allowed to do the show. There's a texture that I had not experienced before in doing a show or watching something. It's loose and alive and authentic.
Erika Christensen on exploring relationships this season: I think we were all pretty excited about exploring all of the relationships that hadn't been, because you know, we skimmed the surface in the first season. There are a lot of relationships. The aunt and uncle cross-relationships, we're excited to see where else Joel and Julia go — I'm curious about Joel and Julia. I'm also curious about Max and Julia, because Julia's such a control freak.