Extremely Loud and Incredibly Close Release Date
What to Rent: New DVDs This Week
In addition to the following releases, Alvin and the Chipmunks: Chipwrecked is also now available on DVD.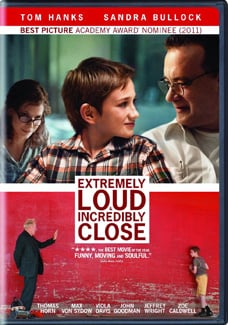 Extremely Loud and Incredibly Close
Tom Hanks and Sandra Bullock star in this drama about a boy named Oskar (Thomas Horn) struggling to connect with the father he lost on 9/11. Armed with only a key that he found in his father's belongings, Oskar embarks on a quest to find the lock that it belongs to, uncovering a host of fascinating people on the way. Extremely Loud and Incredibly Close doesn't hold up to the novel it's based on, but the Oscar nominee will pull on your heartstrings so make sure there are tissues available at the ready. The two-disc DVD/Blu-ray includes a making-of featurette, interview with the cast and crew about their experience ten years after 9/11, and "Finding Oskar," a featurette on Horn.
47%
Set in 20th century Zurich, A Dangerous Method shines a light on the unsound personal lives of psychoanalysts Carl Jung and Sigmund Freud, and the patient (Keira Knightley) that comes between them. Despite a slightly meandering storyline, Michael Fassbender and Viggo Mortensen give masterful performances as the psych pioneers. DVD extras include commentary by Director David Cronenberg, a making-of featurette, and a bonus seminar with Cronenberg.

78%
One more release when you read more.
In the Land of Blood and Honey
Angelina Jolie writes and makes her directorial debut with this story of two lovers torn apart by the Bosnian war. The film is set in the Balkans in the 1990s and though it strives to be a modern and politically poignant Romeo & Juliet tale, the underdeveloped story doesn't quite carry the gravitas that Jolie was no doubt intending. Regardless, it is still an unflinching look at a chapter of history many would rather ignore. Blu-ray extras include a making-of featurette, deleted scenes, and a Q&A with Angelina Jolie.
57%