Family Tools TV Show Review
Pilot Scoop: Family Tools
Leah Remini, J.K. Simmons, and Kyle Bornheimer are tasked with bringing the laughs to ABC this Spring. The three star as members of a dysfunctional clan in Family Tools, a quirky midseason sitcom premiering May 1. Jack Shea (Bornheimer) returns to his hometown after his father (Simmons) suffers a heart attack. Despite everyone's hesitancy — including his father's — Jack attempts to take over the family business. Is the show worth your time? I got a sneak peek, and I'm weighing in.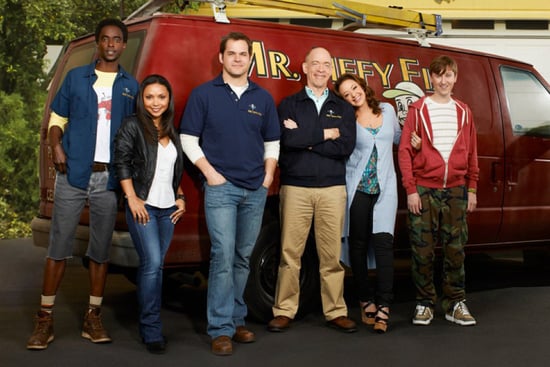 What it's about: Jack just flunked out of seminary school, another blunder in a series of failed careers. When his father is incapacitated after a heart attack, Jack's pushy aunt (Remini) insists that Jack take over Mr. Jiffy-Fix, his father's handyman business. Of course, the accident-prone lunk has to learn how to do actual handiwork first, not to mention how to deal with his oddball assistant Darren (Edi Gathegi). At least Jack can flirt with Darren's sister (Danielle Nicolet), a cute local hardware store employee.
Where it works: Family Tools isn't exactly thought-provoking, but I like the fun, carefree tone of the show. Bornheimer is endearing, Gathegi is bizarrely awesome, and with Simmons in the picture, the cast might just be a winner.
Where it doesn't: At times the comedy feels a little all over the place, and though most of the cast jives well, Remini's intervening aunt character comes off as brash and unlikable.
When it's on: Wednesdays at 8:30 p.m. on ABC
You might like this show if: You're into Raising Hope or My Name Is Earl. This was penned by one of the same writers.
Watch a preview and see all the pictures for Family Tools after the jump.