Fashion Star Preview and Details
4 Things to Know About Fashion Star
NBC kicked off the Winter session of the Television Critics Association with new reality show Fashion Star, which mixes a retail element into reality competition. Not only are aspiring designers competing in challenges, but their winning ensembles will also be made available to buy after the episodes air. Hosted by Elle Macpherson, the show also boasts Jessica Simpson, Nicole Richie, and John Varvatos as mentors, and they hit the TCA stage to talk about how the show will work, along with a few other tidbits. Here are the four most important takeaways.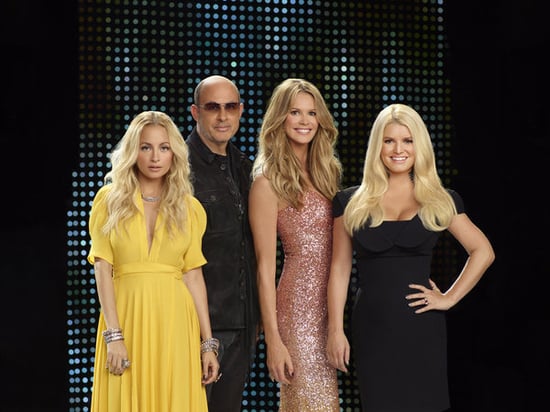 The winners' designs will be available to buy — immediately. The Fashion Star panelists stressed the unique aspect of the show, which is that every time a contestant wins a challenge, the clothes will be available to buy immediately after the episode airs online, and in stores the very next morning. It's a "unique opportunity" for designers, producer Ben Silverman said, because "you can wear the winner."
There are three major retailers selling the clothes, and the variety is deliberate. You can buy the designs at Saks Fifth Avenue, H&M, and Macy's. The various price points were important because the showrunners wanted the clothes to be accessible for everyone. It's aimed at "every woman and every pocketbook," said host Macpherson.
The mentors work with everyone. Richie, Simpson, and Varvatos talked about how they each work with every single contestant to help them. Richie touted what each had to offer, citing Varvatos's design expertise, Simpson's business savvy, and of herself, she joked, "and I'm . . . a genius."
The show isn't keeping the judges from their personal endeavors. Simpson talked about her pregnancy and its impact on her approach to the show and her own business. She explained that she has avoided maternity clothes because she doesn't particularly like them, so she was inspired to design them herself and confirmed that "the next thing you'll see from the Jessica Simpson Collection is maternity."