Fast Five Movie Review
Five Reasons to See Fast Five!
The Fast and the Furious franchise is back, with Fast Five arriving in theaters this weekend. I checked it out earlier this week, and though I wasn't a big fan of the earlier installments, I have to admit that this movie wildly exceeded my expectations. It's not the most feminine of films, but my goodness, was it fun. Here are five reasons I think you need to check this one out.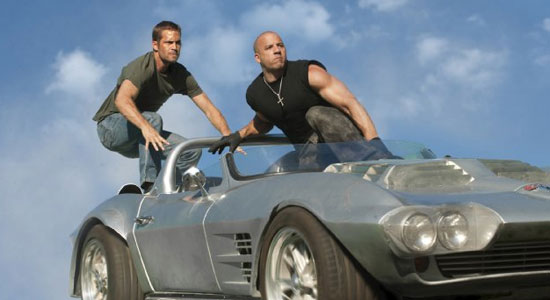 Reunion! This being the fifth installment of the series, and the third to be consecutively directed by Justin Lin, Fast Five brings back the all-stars from previous films (except Michelle Rodriguez, whose Letty died in the last one). In addition to Paul Walker and Vin Diesel, we've got 2 Fast 2 Furious's Chris "Ludacris" Bridges and Tyrese

Gibson

along with The Fast and the Furious: Tokyo Drift's Sung Kang. With their powers combined, the group tries to pull off one last heist, stealing the money of a Rio gangster so that they can retire rich and finally purse their dreams.
Action, action, action. The movie starts off big. There's a major drama-packed scene right in the beginning involving the theft of three cars off a moving train. That doesn't exactly go to plan, though, and there are explosions, a gun fight, and a wild escape before the train crosses a bridge over a wide ravine. Next, there's a hot scene in which a macho federal agent (played by Dwayne "The Rock" Johnson) and his men chase Vin

Diesel

, Paul Walker, and Jordana Brewster over the roofs of a Rio favela. There are also plenty of requisite car chase scenes, though they keep the auto action light due to all the stunt work. The director definitely saves the best for last too.
Paul Walker. I'm of the school of thought that Paul Walker does not get enough roles. He's always been in his element in this series, and once again, he's on the money playing the not-too-deep character of Brian O'Conner occupied with pulling off a job while keeping an eye on his lady friend, Jordana Brewster's Mia Toretto.
IMAX. This much action requires viewing on the biggest screen possible! IMAX must have been invented to screen movies like this.

To see my top reason you need to check out Fast Five, just

.

Diesel vs. Johnson. Answering the prayers of action movie fans, Vin Diesel and Dwayne "The Rock" Johnson finally appear in the same frame! Not only are they side by side, but they're adversaries, and you can imagine where that leads!