Fast and Furious 6 Review
Fast & Furious 6: Fast Cars, Unbelievable Stunts, and Pure Fun
In case you thought it couldn't get any faster or more furious than Fast Five, Vin Diesel, Paul Walker, and co. are ready to prove you wrong in Fast & Furious 6. The original stars — including a resurrected Michelle Rodriguez — return for the sixth film in the speedy series, directed by Justin Lin. Things have changed for the crew since we last saw them: Brian (Walker) and Mia (Jordana Brewster) are now parents, while retired "Uncle Dom" (Diesel) is moping around, but they're soon enough cast back into the world of extreme racing. This time they're legal, working on the same side as the government with federal agent Luke Hobbs (Dwayne Johnson). The story may be different, but the energy and edge-of-your-seat action is familiar in the best way possible.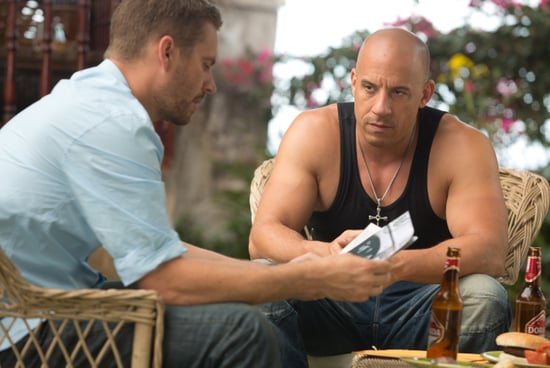 The movie opens with a montage of the previous films, so even if you're not a seasoned viewer, you'll still get a little tutorial on the characters. Fans should be pleased to see all the crew members (Tyrese Gibson, Ludacris, and Sung Kang) assemble after spending time in different tropical paradises — after Fast Five's heist, they're not exactly welcome in the United States. When Hobbs comes knocking, he makes them an offer they can't refuse: help him track down criminal mastermind Owen Shaw (Luke Evans), head of a dangerous racing crew not unlike their own. In exchange, not only will he clear their names, but also, he'll lead them to Dom's former girlfriend, the presumed-dead-but-now-very-much-alive Letty (Rodriguez). There are several solid plot twists to keep you interested, but the real star of the movie is the action. Find out why after the jump.
Fast & Furious 6 doesn't follow the 3D trend, but the action scenes are so well choreographed and the backdrops so stunning that the movie doesn't need any extra pizzazz. This installment of the franchise goes totally over the top in the action department — in a good way. The regulars all have some great fight sequences, but it's new addition Gina Carano (Haywire) that shines in a particularly memorable fight scene against Letty. The real-life MMA fighter doesn't have outstanding onscreen presence, but man, can that girl fight. There's also a tank that comes crashing out of a truck, cars that dangle off a plane in mid-takeoff, and — not to spoil things, but this is too good — someone gets thrown into a propeller.
This may all sound very intense, but there's also a healthy dose of humor. Roman (Gibson) and Tej (Ludacris) nab most of the one-liners, cracking off jokes about Hobbs's gleaming muscles. There's also a romantic angle, as Dom is finally reunited with Letty, though she initially doesn't take too kindly to her former lover. Some of the dynamics — like the focus on Han's (Kang) relationship — feel superfluous, but they don't take away from the better aspects of the film.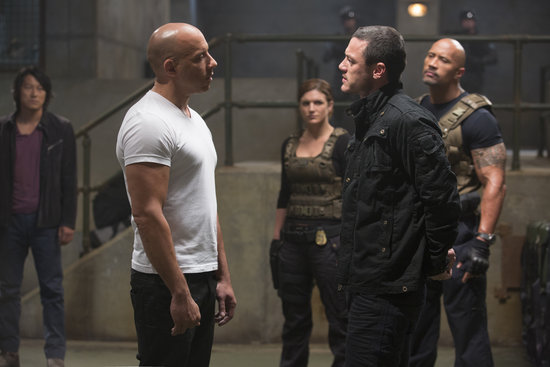 Fast & Furious 6 is action movie magic at its best, cheesy one-liners and all. Who wouldn't want to spend a couple of hours in a world that seems to be solely inhabited by beautiful people, where car chases double as foreplay, and where pumping adrenaline is enough to temporarily cure several life-threatening injuries? I know I do.