The Fifth Estate Review
Movie Review: The Fifth Estate
Just three years after WikiLeaks made headlines for its release of classified government documents, The Fifth Estate tackles the scandal in an informative and entertaining way. Based on two books about WikiLeaks founder Julian Assange (one written by his former associate Daniel Berg), the film is director Bill Condon's take on the notorious company, starring Benedict Cumberbatch as Assange, while Daniel Brühl plays Daniel Berg. It doesn't matter if you've closely followed the worldwide controversy sparked by WikiLeaks, nor does it matter how you feel about the polarizing Assange. The Fifth Estate crafts a clever story that will make you think.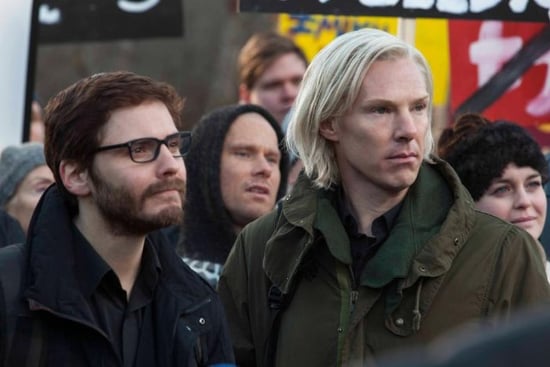 When part-time hacker Daniel meets the cool, confident Julian, his world is rocked. Julian wants Daniel to be one of the volunteers that run WikiLeaks, but their partnership soon stumbles. Julian's belief that everything should be out in the open goes for personal space as well as government documents, a sentiment that doesn't sit well with Daniel. On one level, The Fifth Estate effectively explores friendship and what it means to trust someone. On another, it dissects the importance of privacy versus transparency in today's modern world. It's the seamless combination of these themes that makes the movie so captivating. Get more of my take on The Fifth Estate when you read more.
Cumberbatch slips completely into his role. He has the founder's Australian accent and shocking white hair, but it's his understated acting that is the most notable. He's wily, genuine at times, but also deceitful. He claims he wants to share information with the world, but with just a telling glance, Cumberbatch hints that what Julian really wants is to have his ego stroked. Brühl, as his counterpart, is a welcome voice of reason. As Julian starts taking more dangerous risks, it's Daniel that calls him out, and Brühl manages to play the optimistic everyman without fading into the background next to his eccentric partner.
One of the most impressive aspects of The Fifth Estate has nothing at all to do with the actors. Condon uses graphics and surreal effects to represent the organization of WikiLeaks. Infinite desks are surrounded by nothingness while Julian and Daniel alternately inhabit the identical chairs. The portrayal is brilliant, and those are the images that stick with you the most — but they won't be the only thing you take away from the movie. Chances are you'll leave wanting to hear and see more of the real story behind WikiLeaks, which to me, is the mark of a great fact-based film.