The Fighter Movie Review Starring Mark Wahlberg, Christian Bale, Melissa Leo, and Amy Adams
The Fighter: A One-Two Punch of Power and Spirit
The Fighter may be a sports biopic about an underdog, but David O. Russell takes it beyond a true-life inspirational story and makes the film real, electrifying, intense, and even funny. Mark Wahlberg stars as Micky Ward, a boxer who's been unable to make an impact in his fighting career, nor has he been able to emerge from the shadow of his older brother, Dicky (Christian Bale).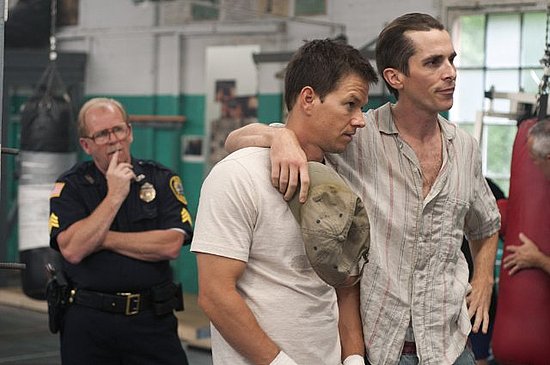 Set in Lowell, MA, Dicky Eklund's glory days as the pride of the town are long over, though everyone is still keen to remember the one time Dicky fought Sugar Ray Leonard. Dicky is now an emaciated crack addict, but his presence nevertheless dominates Micky's every move. As his trainer, Dicky has taught Micky everything he knows, but his self-destructive nature threatens to derail Micky's career. But The Fighter is not a sibling rivalry tale. It's an exploration of family, spirit, and strength.
To find out why I think The Fighter is one of the best films of the year, just read more.
The cast of The Fighter is its greatest asset, starting with Bale. He's a revelation; Bale embodies Dicky rather than just playing him. Though Dicky has the hollow face and dark circles of a junkie, he maintains a frenzied effervescence (and he can still knock someone's block off if he needs to). Bale offers an uneasy sort of charisma, making Dicky someone you'd know better than to fraternize with, but you can understand why Micky will never be able to cut him off. While Wahlberg isn't the standout that Bale is, he provides an understated counterpoint as Micky.
Melissa Leo also gives a fantastic performance as Alice, the brothers' feisty mom. She's supportive of Micky, but it's far from the worship she still shows Dicky. She's willingly blind to Dicky's drug problem, always focusing her pride on the past. In fact, everyone that knows Dicky seems to enable him until two major events take place: his arrest, and the airing of a documentary that features Dicky's devastating drug problem (for those interested, the real doc is called High on Crack Street: Lost Lives in Lowell).
Once Micky accepts that Dicky and his mother have held him back, he steps back into the ring, but he only gets so far before acknowledging that it can't be all or nothing when it comes to his family. Micky has to find a balance with them, a balance between support and smothering. With them and scrappy girlfriend Charlene (an adorably foul-mouthed Amy Adams) literally in his corner, Micky finds the success he's patiently waited for.
Russell tells the story with depth, but never lets it get too somber. It's not easy to administer heavy scenes while still keeping the tone light overall, but Russell triumphs. Thanks to him and the turn from Bale, The Fighter is a film that can drag you down with Dicky's lows, and then lift you back up to Micky's heights.