Finale Recap: Leanne Marshall Wins Project Runway
Project Runway Rundown: Episode 14, "Finale Part Two"
Ah, the Project Runway finale. It's like my Super Bowl. Luckily for me, it came twice this year (which is an especially good thing knowing that the fate of next season is up in the air). But enough about the future of ProjRun — let's talk about the present. As you know, last week Jerell was eliminated, leaving the three female contestants to vie for the win: Leanne, Korto, and Kenley. The good news is that I was excited to see what all three of these women could do on the runway — after all, each of them made my top 10 looks of the season list. The bad news is that it was probably the dullest finale in the show's history. I mean, where was the drama? Even the cameo from Morgan (the terror model from season one) was devoid of tension, and they had to turn to dog poo to liven things up a little. That's not to say I didn't like their respective collections. On the contrary, I thought all three had very strong showings; I'm even ready to say these were three of the strongest overall collections in the show's history and the first time I would have been satisfied with any winner. I was just a little bored. Boo.
To talk more about the episode, and to see all of the final looks,
.
Before we get to the looks, here are a couple of my favorite moments from the episode:
Morgan is still the best and most dynamic model from all five seasons of Project Runway. Bring back the model mayhem in season six! Also was excited to see Amanda — and, briefly, Shannon from Make Me a Supermodel.
I was so impressed that Korto created two new looks for the runway. Usually the designers struggle to finish the looks they've already completed. Kudos, Korto.
The dog poo moment was funny. I loved Leanne's reaction: "I can't even imagine explaining that to the judges, that there's dog crap on the evening gown."
How hilarious was it that Kenley was so snooty about letting anyone help her iron, and then was shown dropping one of her gowns on the floor?
Even though we knew Jennifer Lopez would not be judging the final showdown, I was a wee bit disappointed that there wasn't a guest judge. But you couldn't ask for anyone better than Tim Gunn to fill her shoes.
And for the last time this season, let's talk about the looks:
Kenley: Kenley found inspiration in Alice in Wonderland and exuded that whimsy in her color palette and silhouettes. While Tim had minor problems with her rope trim, the biggest issue the judges had with Kenley's collection was her carbon-copy designs. Last week they called out her wedding dress as looking too Alexander McQueen; this time they found fault with her floral dress looking too Balenciaga. And yet again, the proof was in the pudding. (Also, am I crazy, or did they say that about this dress, too?) It was enough to cost her the win.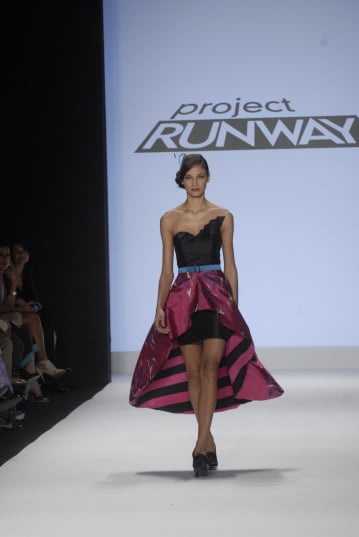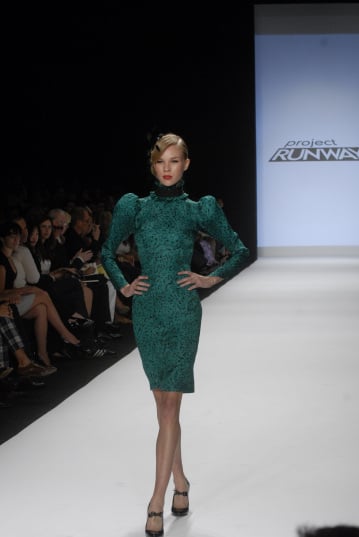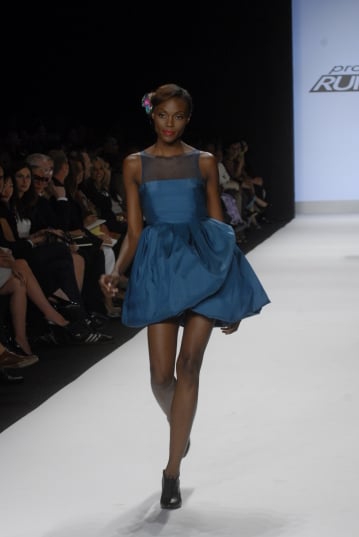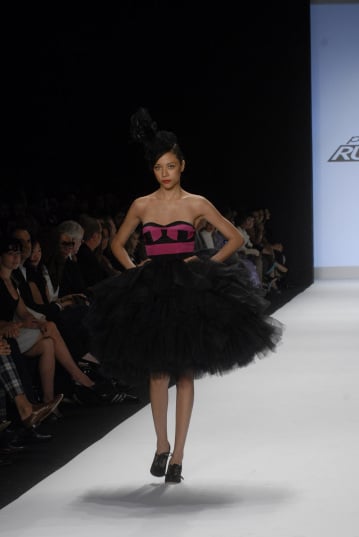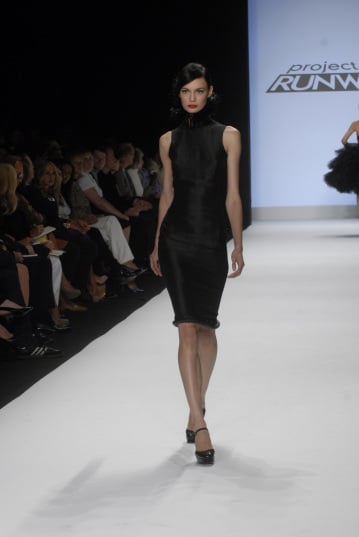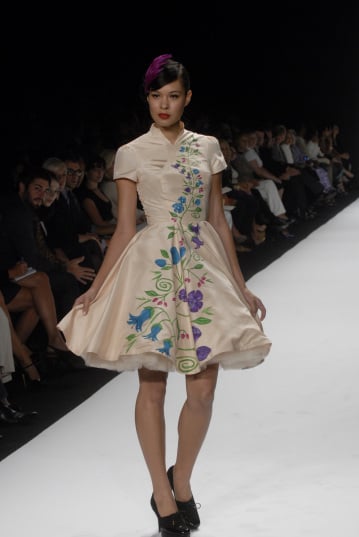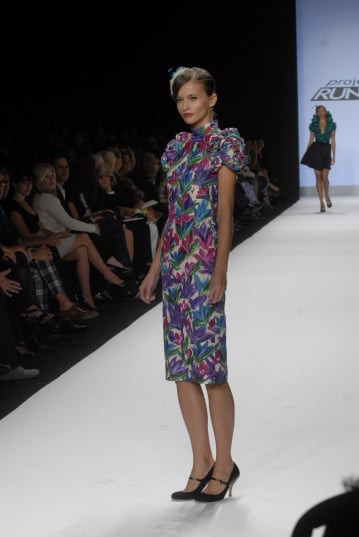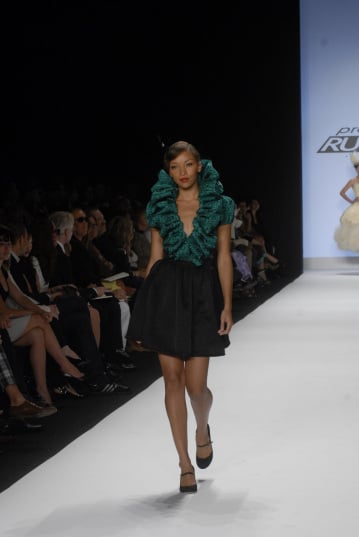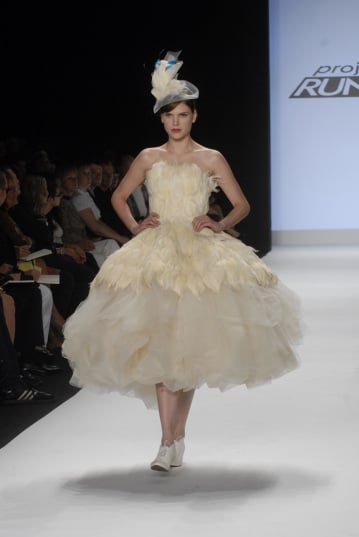 Korto: Korto's collection was inspired by nature. The colors she used were beautifully rich greens and browns. There was also a hint of her African ancestry interwoven into the outfits and accessories, and I loved her hand-done beadwork (and wished there was more of it). The judges loved Korto's line, especially the color and cohesion. The only gripe Heidi had was that some of the pieces looked a little overworked. And as with Kenley, this minor misstep hurt her dearly. She's out.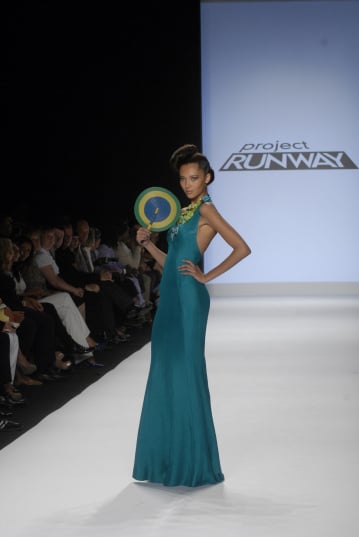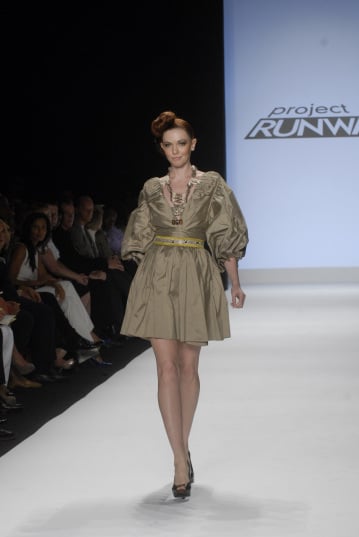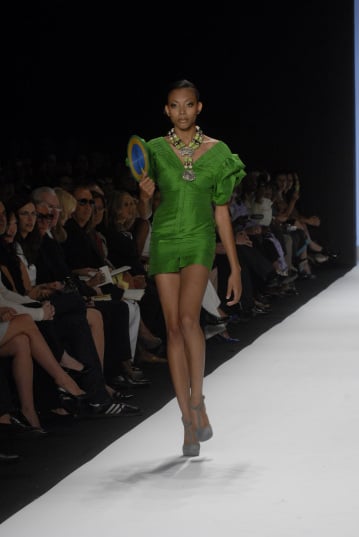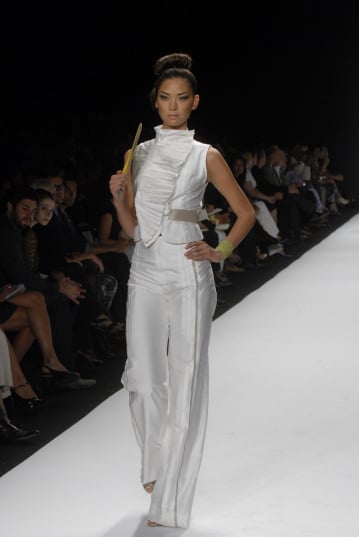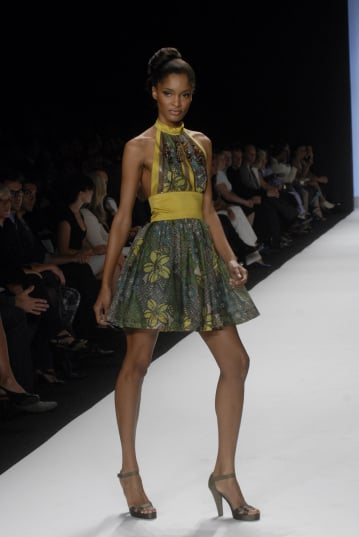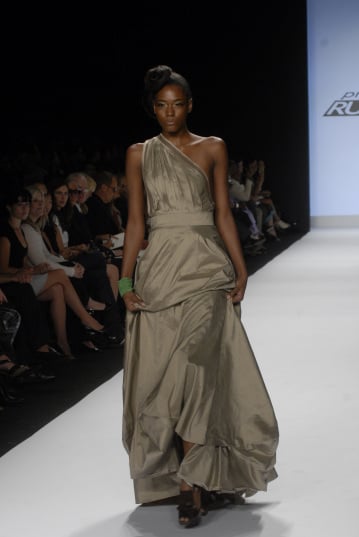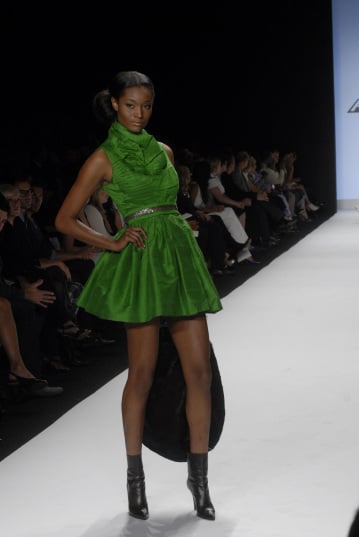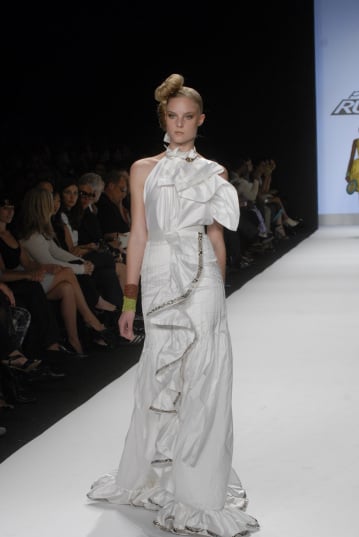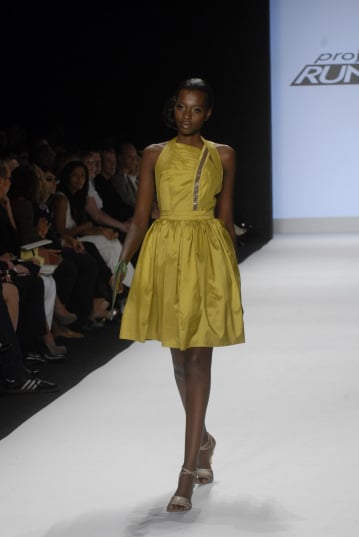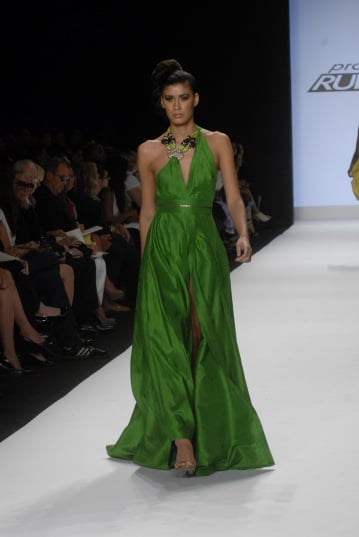 Leanne: As with the other two, the judges, in general, loved Leanne's collection. Michael was in awe of her workmanship. Tim and Nina loved her versatility in silhouettes. And Heidi applauded her innovation. Their biggest beef was that she was a little one-note with her petal detailing (Michael even called her Petals Marshall, which he said sounds like a stripper, not a designer. Ha!). I agreed with the judges in this aspect. It reminded me of Chloe's final collection from season two: beautiful, but the looks were very similar with little variation. (That doesn't mean I wouldn't kill to wear them, especially that blue evening gown.) In the end, she got the win.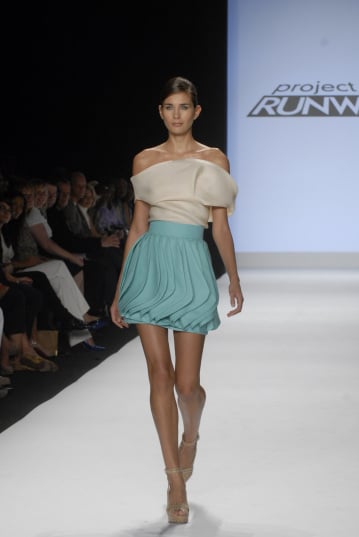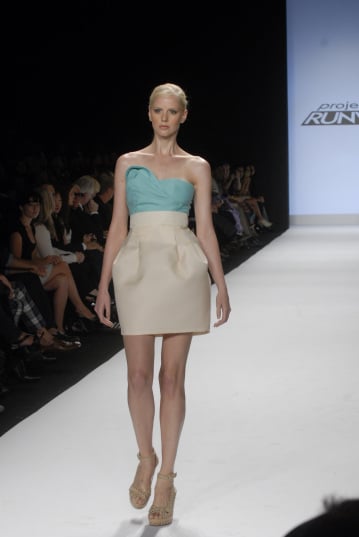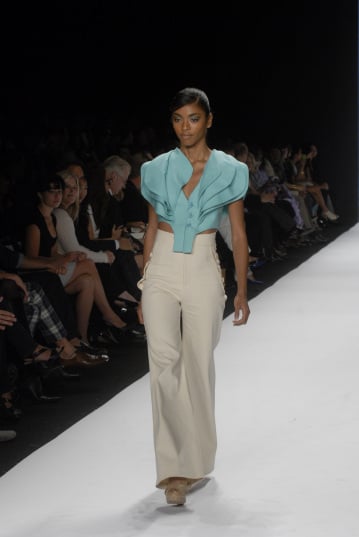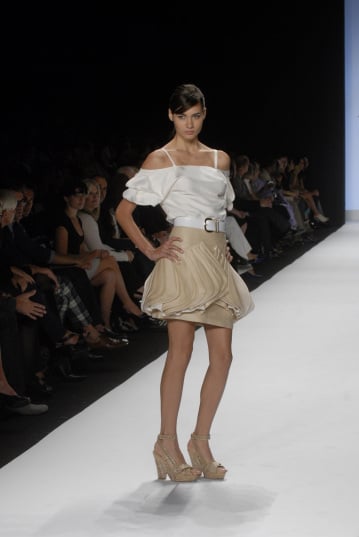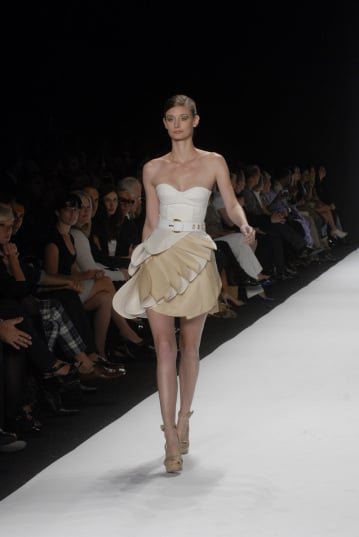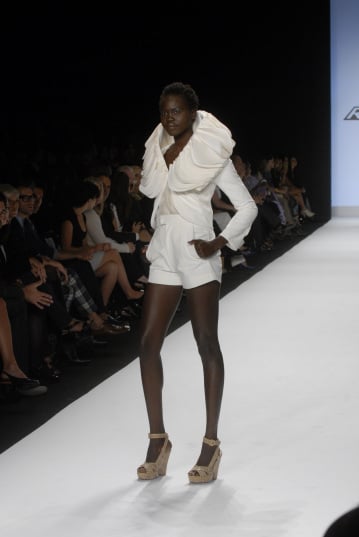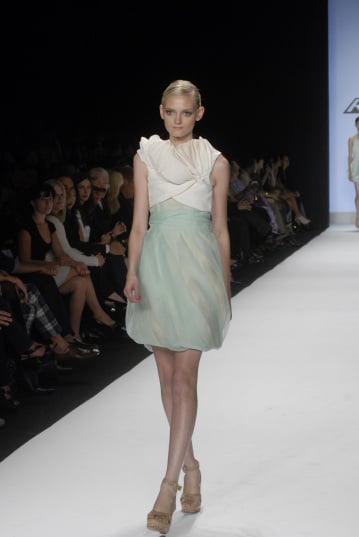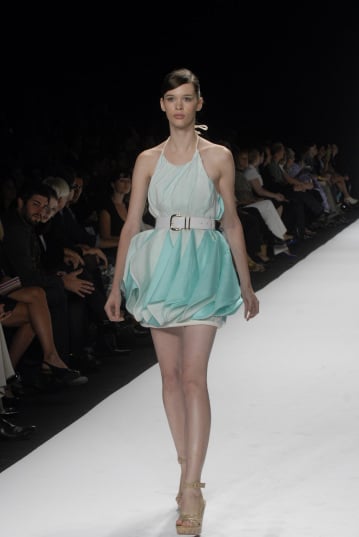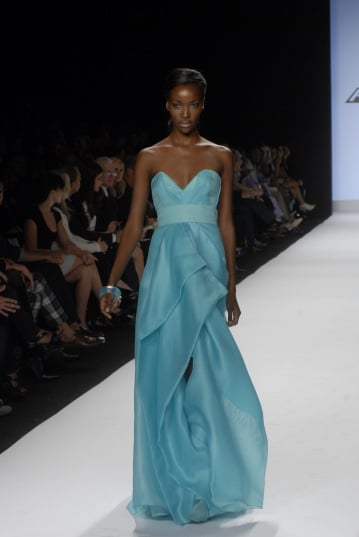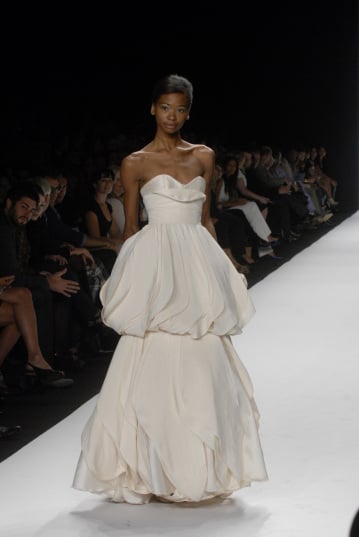 So, what did you think of the episode? Did Leanne deserve the win? I was torn between her and Korto and would have been happy with either. You?
Oh, and to see how to get all the fashion from last night's episode, check out our new site CelebStyle!
Photos courtesy of Bravo