The Firm TV Show TCA Interviews
How The Firm Will Be Like the Movie and Book — And How It Won't
NBC is revisiting the '90s book and film The Firm with its new series of the same name, only this time, Josh Lucas is starring as lawyer Mitch McDeere, and the show picks up 10 years after the events in the book. Executive producer Lukas Reiter and actors Lucas, Juliette Lewis, and others visited the Winter TCA to tell us how they're differentiating the TV show from the source material and Tom Cruise movie — and what ways they don't mind being similar.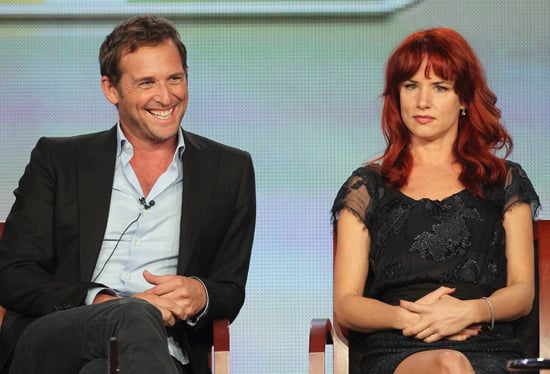 Lucas said that he wasn't concerned with distancing himself from Tom Cruise's portrayal of Mitch, and in fact, he says that his goal was "to homage Tom Cruise's performance." But as he pointed out, the 10-years-later Mitch of the TV show is very different. Mitch and his wife Abby are "much more damaged." Lucas pointed out that in the book, there's a "sense of naiveté and drive and ambition," but now, it's been "replaced by survival and fear and paranoia."
Reiter was asked if he wanted viewers to make a strong association between the TV series and the preceding book and movie or if he wanted to create a standalone series, and he answered that "the goal was always both." He said he thought the characters were so interesting that he wanted Grisham to "tell us more about Mitch and Abby McDeere."
There are revamped characters to meet on the TV show, such as Lewis's character Tammy, who is Mitch's assistant. She's kind of a live wire, but Lewis describes her "a "survivalist" who'd get by in any town or any city.
On whether the show is more for fans of the book and film or people who have never seen or read it, Reiter said it's for both. He wants to continue chronicling Mitch and Abby's life, but also give something to people who haven't seen it, so everyone can "get swept away in a brand-new story."