First Picture From Napoleon Dynamite Animated Series
Napoleon Dynamite Animated Series — Love It or Leave It?
Fox has had major success with its animated series, and the network is adding even more cartoons to its slate. We heard rumblings of a Napoleon Dynamite cartoon way back in May, and here's your first look at the characters you know and love with a cartoonish makeover. Fox has already picked up six episodes, which will feature the voices of Jon Heder and the other original characters from the movie.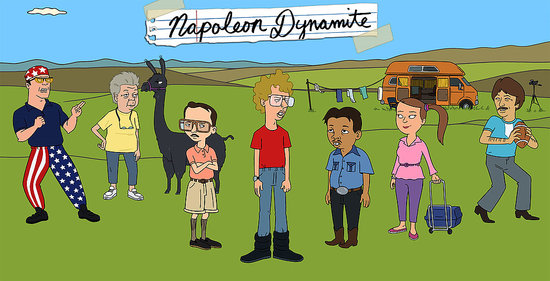 The movie holds a very special place in my heart (I'm especially excited to see that Tina the llama is getting some love here), so usually I'd be skeptical about the novelty being ruined by a series. That said, I'm encouraged by the return of the original players — Jared and Jerusha Hess, the masterminds behind the film, are on board as writers and producers. We'll have to wait until next Fall to see more of the show, but how do you feel about your first look?