Flight of the Conchords Movie News
4 Reasons the Flight of the Conchords Movie Needs to Happen
Will the Conchords fly again? According to Bret McKenzie, it just might happen — and this time, on the big screen. The actor recently told The Hollywood Reporter that there's definitely hope for a Flight of the Conchords film, saying, "We're gonna try and do a movie. We just need a story." Though the HBO comedy series fizzled out after just two seasons, the show's 23 episodes are enough to convince me that these guys have what it takes to be movie stars.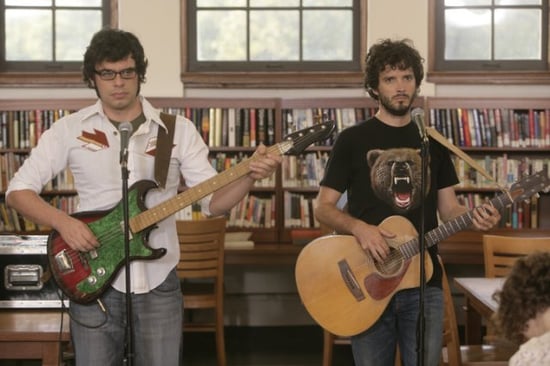 The Muppets movie made me miss the Conchords' quirky songs. The Muppets was a reunion for McKenzie and director James Bobin, who co-created Flight of the Conchords. McKenzie acted as the music supervisor for the film, and the songs in the musical absolutely have an eau de Conchords. Who else could write songs like "Me Party" and "Man or Muppet?" Clearly McKenzie hasn't lost his touch, and the fun, silly musical numbers in The Muppets prove he's got the chops to take his show to the big screen.
The HBO series burned out too soon. It's pretty much consensus amongst Flight of the Conchords fans that the first season was genius, but the second was subpar. It was hard to top the random hilarity of the first batch of episodes, and it was clear that McKenzie and Jemaine Clement had some issues coming up with new songs to fit another season, but that doesn't mean we've given up on them.
Bret and Jemaine need to be bigger stars than they are. This is the first I've heard about McKenzie since his days with the Conchords (other than the news of his upcoming small role in The Hobbit), and Clement has been mostly under the radar as well. Both of these guys are talented and hilarious, and a movie is exactly what they need to get back on the map.
A movie would give them time to develop great songs and a fun story. It seemed like part of the problem with the second season of the TV show is that the guys were pressed for time, but there would be no rush on a movie. Plus, with a brand-new story, maybe the Conchords could finally get their big break?