Footloose Remake Movie Review
Why Footloose Is So Bad It's Good
It probably won't shock you to hear that Footloose is not a cinematic masterpiece, but you might be pleasantly surprised to hear that it's pretty enjoyable. The movie, a remake of the 1984 film starring Kevin Bacon, tells the story of high schooler Ren (Kenny Wormald), who moves from Boston to the sleepy country town of Bomont, Georgia. Even though he finds that the town has outlawed dancing, Ren can't keep his feet from busting a move — or his eyes off the reverend's daughter, Ariel (Julianne Hough).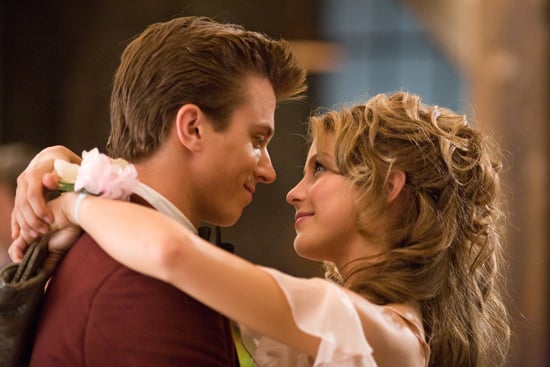 Footloose is basically the definition of guilty pleasure, which means it's as enticing to some as it is repellent to others. I had plenty of problems with the movie, but for each criticism, I managed to find a justification — and ultimately, I had a great time. Check out my reasons for why Footloose is so bad it's actually good.
The concept of banning dancing is completely outdated. There's a curfew and what seems like a general kibosh on having fun because of an incident that happened several years before, in which a car accident claimed the lives of a few of Bomont's teens. Since dancing was involved, the Reverend Shaw Moore (Dennis Quaid) puts forward a motion to ban any kind of dancing in public, which is obviously a super big buzzkill to the town's dance-happy kids. It somehow seems reasonable in 1984, but in 2011? Say it with me: "Really?!"
But . . . The remake is loyal to the original movie, using the same storyline, character names, even some exact scenes. Its devotion to the '80s flick and refusal to modernize it too much makes me appreciate it a bit more, because even though it's a remake, it still knows better than to mess too much with a classic.
See why else Footloose earned its way into my heart despite its problems, just keep reading.
The dialogue is unforgivably cheesy. There are romantic exchanges, parental fights, and Ren's impassioned plea to overturn the dance ban, and the language is often insufferably bad. You won't be able to stifle a giggle, even though the characters are straight-faced on screen.
But . . . There are some lines that are so goofy that they become memorable. After seeing the movie, Ren's bewildered refrain of "There's a ban on dancing?" has been quoted by me and a friend many, many times.
There are not enough dance scenes. There are many non-dancing, draggy scenes to move the plot forward. Many times while watching I thought to myself, "Less talking, more dancing!" I did not come for the plot, I came to see Kenny Wormald shaking it, Julianne Hough shaking it, and the occasional shaking of it together.
But . . . When there is a dance scene, man is it fun. After watching the movie, I wanted to get on the dance floor myself. I still want learn some of the moves, like Ren's final shuffle (aka the step Kevin Bacon cemented in pop culture history) or the line dancing that the cast looked like they had an amazing time filming. The feeling works its way from the characters to the audience, and you find yourself having a fun time too, despite the movie's shortcomings.
Photo courtesy of Paramount Pictures