Franklin & Bash Season 2 Reasons to Watch
5 Reasons You'll Fall in Love With Franklin & Bash
The second season of TNT's Franklin & Bash premieres tonight at 10/9 p.m. EST, and if you're not familiar with the show, then let me remind you that it stars two major '90s hunks: Breckin Meyer and Mark-Paul Gosselaar. Jared Franklin (Meyer) and Peter Bash (Gosselaar) are two good-looking lawyers who capitalize on their charm and unconventional courtroom style to win cases. Away from the office and outside the courtroom, Peter and Jared are the best of friends and two single guys who know how to let loose. If you're looking for a new addition to your DVR, then here are five reasons you should have a Summer fling with Franklin & Bash.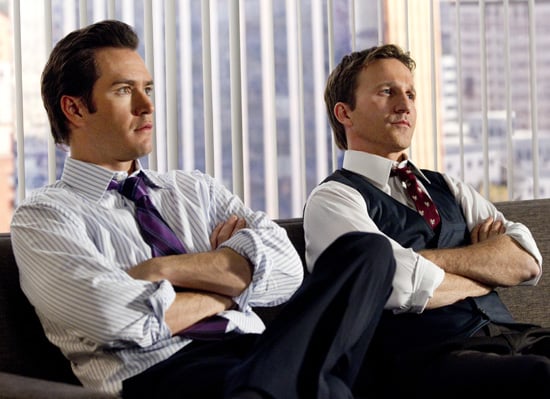 It's a drama-free courtroom drama: If you need a break from serious procedurals, then look no further. Franklin and Bash's cases are borderline ridiculous, but with writing from Kevin Falls, who previously penned The West Wing, you're in for some serious fun at our legal system's expense.
Mark. Paul.

Shirtless

: Let me say it again — Mark. Paul. Shirtless. The writers make sure to regularly treat viewers to scenes featuring

MPG

's abs. Check out tonight's episode and you'll get an eye-full of his six-pack. It's must-see TV.
The man cave: The guys do most of their critical thinking (and drinking) in a very impressive, tricked-out man cave. Season one's most memorable moment took place there (ahem, naked MPG), and we're hoping the hot tub comes back into play this season.
Blasts from the past: Gosselaar and Meyer aren't the only famous faces you might recognize. In addition to series regular Malcolm McDowell, this season is peppered with cameos from stars like Seth Green, Chris Klein, Cybill Shepherd, and Beau Bridges, just to name a few. There hasn't been a Saved by the Bell reunion just yet, but here's hoping Kelly Kapowski, aka Tiffani Thiessen, can sneak away from her full-time gig on White Collar for a future episode.
Just a little somethin' to break the monotony: Like the aforementioned song lyric, the show feels like summertime. The episodes are new, the tone is light, and the cast is hot. If you're sick of reruns and need something fresh to spice up your Tuesday routine, then click over to F&B, adjust the base, and let the alpine blast, 'cause it's summertime.


Photo courtesy of TNT