Friend BuzzSugar on Facebook and Follow BuzzSugar on Twitter
Find Me on Facebook and Twitter For All the Latest Updates!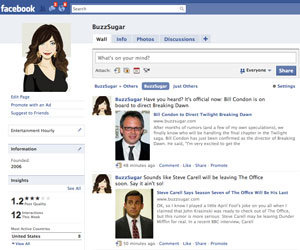 I know you can't check BuzzSugar every hour per se, but there's an equally easy way to keep tabs on breaking entertainment rumors — just fan my page on Facebook or follow me on Twitter! I'm constantly posting highlights from the day's news, which means you won't miss out on Vampire Diaries eye candy or up-to-the-minute Twilight Breaking Dawn news. Plus, there are a few treats and Easter eggs that only my Facebook fans and Twitter followers will see. Add me, and I promise to keep you in the know!