Friends With Benefits Movie Review 2011-07-21 21:00:00
Friends With Benefits: A Fulfilling Fling
Romantic comedies usually make you wait for its stars to consummate their relationship, but does it work if a movie gives you the sex first and the love later? In Friends With Benefits, Mila Kunis and Justin Timberlake are up to the challange. Kunis plays Jamie, a Manhattanite head hunter who recruits Dylan (Timberlake) for a magazine job. They get along immediately, but they're not really interested in dating each other. However, they're still both interested in sex, and they decide that they're mature enough to pull off a very tricky feat: a healthy friends-with-benefits relationship.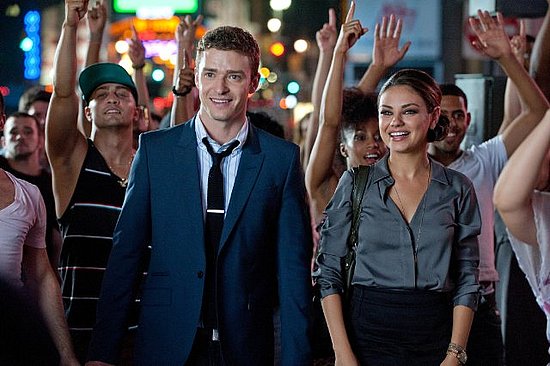 This kind of situation rarely works out in real life, and that's indication enough for you to guess that Jamie and Dylan can't keep romance out of their equation. Lucky for us, their progression from sleeping together to falling for each other makes for a sexy, funny romp. To find out why I liked Friends With Benefits, just
.
Kunis is the star of the show; she hasn't been tasked to carry a movie this big before, but she's so naturally funny, charming, and cute that the only reason you wouldn't like her is because you're jealous of her effortless coolness. As for Timberlake, he's given license to be a goofball in several memorable bits, and he proves that comedy is his niche. I found him more entertaining here than in his previous roles in The Social Network and Bad Teacher.
The high energy of the unique opening scene — a mash-up of Jamie and Dylan's most recent respective breakups — is mostly maintained throughout the movie. (It should also be mentioned that Andy Samberg and Emma Stone steal that sequence as the exes in question.) The film is frequently hilarious, and while it's pretty dirty when it comes to the sex scenes and frank sex talk, it doesn't resort to visual, gross-out humor.
While that energy keeps things from getting too heavy at first, the movie adds in a little seriousness in the third act via Dylan's family life. It feels a little shoehorned in, but it's also a nice way to get some character development from Timberlake (and further display of the incomparable acting skills of Richard Jenkins, who plays Dylan's father).
Even though Friends With Benefits strives to distinguish itself from run-of-the-mill romantic comedies, inside beats a traditional heart. Jamie's biggest emotional problem is that she's always looking for her Prince Charming, and the format is standard for the genre. They meet, do cute activities together, fall for each other, and it all wraps up with a grand gesture. You know the drill, but your heart will still race when you get to that final Hollywood kiss (but with tongue).
Photos courtesy of Sony Pictures