Friends With Benefits and One Day DVD Release Date Is Nov. 29
What to Rent: New DVDs This Week
In addition to the movies below, the DVDs for Our Idiot Brother, The Art of Getting By, Another Earth, and The Smurfs are also available to rent this week.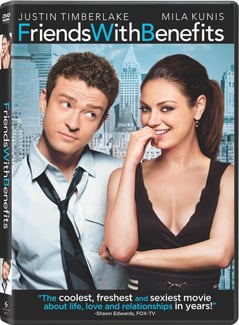 Justin Timberlake and Mila Kunis star as Dylan and Jamie, two Manhattanites who become quick friends and find that they have the same problem: they want to have sex without the burden of a relationship. They start a no-strings-attached sexual relationship, but fall for each other before the credits roll. This romantic comedy is as predictable as it is cute, with plenty of laughs courtesy of the super likable Kunis and moments like JT busting out '90s hits. DVD extras include deleted scenes, a commentary track, and a blooper reel.

71%
In this adaptation of David Nicholls's novel, Anne Hathaway and Jim Sturgess play Emma and Dexter, best friends with an occasional romantic streak. The two meet in college and embark on a 20-year friendship, and the film revisits them on the same day each year to depict where they are in their lives and relationship. While fans of the book may not think the film version measures up, the dreamy Sturgess makes this romantic drama worth watching. Extras on the DVD include commentary from director Lone Scherfig, deleted scenes, and a few featurettes.
37%
See one more new release when after the jump.
Jesse Eisenberg stars as Nick, a slacker pizza boy who becomes the unwitting pawn in a bank robbery by two losers (Danny McBride and Nick Swardson). Nick has to commit the crime or be blown up by the bomb attached to his body, so he recruits his teacher best friend (Aziz Ansari) to assist him. Raunchy and hilarious, you'll enjoy this comedy for the chemistry between Ansari and Eisenberg. DVD extras include deleted scenes, outtakes, featurettes, and cast interviews.
44%