Fright Night Movie Review
Fright Night: A Pump of Fresh Blood
Move over Edward Cullen — an old-school breed of vampire has returned to the big screen and his style is much more exhilarating than your PG take on bloodsucking. Rather than pine after a high school love, he's interested in doing what vampires do best: kill. In Fright Night, Colin Farrell stars as Jerry Dandridge, a charismatic vampire who has recently moved into a suburban neighborhood in Las Vegas and begun victimizing the locals. Anton Yelchin plays Charley Brewster, a high school senior who lives next door to Jerry and suspects he might be responsible for the recent bout of disappearances in the neighborhood.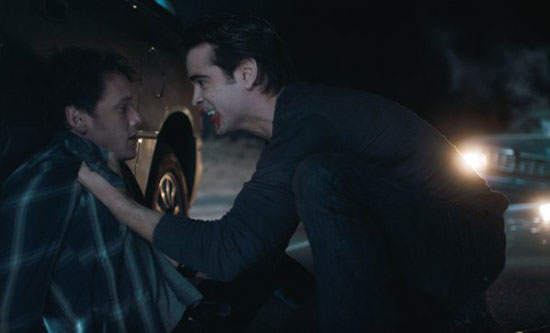 The film is a remake of a 1985 horror-comedy by the same name, and it does a great job of sinking its fangs into each genre, providing a movie that is equals parts funny and frightening. Farrell pulls off his role so well that it's easy for moviegoers to fall under his spell just as easily as his victims. To find out what else makes the film work just read more.
Farrell nails the role of a super-seductive bloodsucker. When his eyes aren't turned black in preparation for attack, he's using them to flirtatiously stare at every woman on the block — the neighborhood hottie, Charley's mom Jane (Toni Collette), and even Charley's teenage girlfriend Amy (Imogen Poots), whom Jerry unabashedly calls "ripe." He flip flops back and forth between charmer and murderous monster, but his scenes in attack mode don't necessarily incite huge amounts of fear. That's partly because Jerry is more of a pathological, methodical killer, who tends to lure his victims with sex appeal and relish the kill with controlled calmness. However, the special effects, which transform Farrell's face into a terrifying creature, carrying out the task of making you jump in your seat, a feat that Jerry's hunting style lacks.
Yelchin is adequate, but overshadowed by supporting cast members, like Christopher Mintz-Plasse. He plays Charley's former nerdy best friend, and delivers some of the film's funniest moments, including poking fun at Twilight. David Tennant also emerges as one of the funniest characters in his role as a magician whose act revolves around pretending to be a vampire slayer. With his heavy eye-liner and leather pants, he comes off as a cross between Jack Sparrow and Russell Brand, with also provides extra laughs.
The intense chase and fight scenes between Charley and Jerry fulfill the horror side of things. Tension-filled exchanges, like when Jerry tries to determine if Charley knows he's a vampire, and when Charley breaks into Jerry's home to save a victim, had me biting my nails.
Regardless of how you like your vampires, Fright Night will entertain you with a steady stream of laughs and plenty of moments that are creepy (but won't give you nightmares).