Full List of 2010 Screen Actors Guild Award Winners 2010-01-23 22:39:35
Announcing the Winners: The 2010 Screen Actors Guild Awards
As award season heads into the homestretch, tonight's SAG awards were almost a carbon copy of last week's Golden Globes. The one major difference — Avatar was nowhere to be found this time.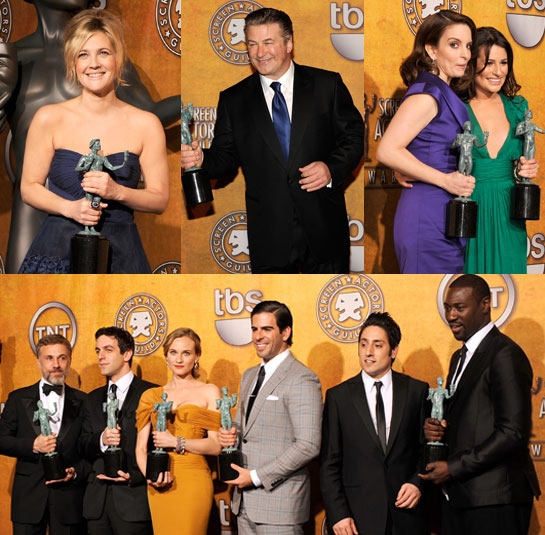 Christoph Waltz and Mo'Nique scored trophies once again, as did Michael C. Hall and Glee. Sandra Bullock handily defeated Meryl Streep in the Best Actress category, and Inglourious Basterds took home the award for Best Performance By A Cast. We're just slowly inching closer to the big Oscars, so to see the full just of winners, just read more.
Get the full list of winners when you read more.
MOVIES
OUTSTANDING PERFORMANCE BY A MALE ACTOR IN A LEADING ROLE
Jeff Bridges, Crazy Heart
OUTSTANDING PERFORMANCE BY A FEMALE ACTOR IN A LEADING ROLE
Sandra Bullock, The Blind Side
OUTSTANDING PERFORMANCE BY A MALE ACTOR IN A SUPPORTING ROLE
Christoph Waltz, Inglourious Basterds
OUTSTANDING PERFORMANCE BY A FEMALE ACTOR IN A SUPPORTING ROLE
Mo'Nique, Precious
OUTSTANDING PERFORMANCE BY A CAST IN A MOTION PICTURE
Inglourious Basterds

TELEVISION
OUTSTANDING PERFORMANCE BY A MALE ACTOR IN A DRAMA SERIES
Michael C. Hall, Dexter
OUTSTANDING PERFORMANCE BY A FEMALE ACTOR IN A DRAMA SERIES
Julianna Margulies, The Good Wife
OUTSTANDING PERFORMANCE BY A MALE ACTOR IN A COMEDY SERIES
Alec Baldwin, 30 Rock
OUTSTANDING PERFORMANCE BY A FEMALE ACTOR IN A COMEDY SERIES
Tina Fey, 30 Rock
OUTSTANDING PERFORMANCE BY AN ENSEMBLE IN A DRAMA SERIES
Mad Men
OUTSTANDING PERFORMANCE BY AN ENSEMBLE IN A COMEDY SERIES
Glee
OUTSTANDING PERFORMANCE BY A MALE ACTOR IN A TELEVISION MOVIE OR MINISERIES
Kevin Bacon, Taking Chance
OUTSTANDING PERFORMANCE BY A FEMALE ACTOR IN A TELEVISION MOVIE OR MINISERIES
Drew Barrymore, Grey Gardens
STUNT ENSEMBLES
OUTSTANDING PERFORMANCE BY A STUNT ENSEMBLE IN A MOTION PICTURE
Star Trek
OUTSTANDING PERFORMANCE BY A STUNT ENSEMBLE IN A TELEVISION SERIES
24