Full List of Winners For the 2010 Critics' Choice Awards 2010-01-15 22:23:53
Announcing the Winners: The 2010 Critics' Choice Awards
The show is over and trophies have been handed out at the 2010 Critics' Choice Awards, but the night wasn't without its share of surprises. Avatar managed to run away with a record-breaking six wins (most in the technical categories), but it lost out in the two major spots of the night to a much smaller film — The Hurt Locker. Kathryn Bigelow's tale of a bomb squad unit in Iraq not only garnered her a Best Directing win, but the film also took home the biggest honor of the night, Best Picture.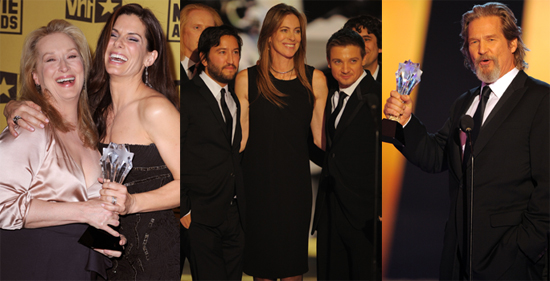 Also unexpected? A tie in the Best Actress category again this year (just like last year!), but this time between Sandra Bullock and Meryl Streep.
I'm curious to see if these honorees are any indication of what might go down at this Sunday's Golden Globes (so far, my predictions haven't been as spot-on as I had hoped!). Not to mention, the past three films to earn Best Picture at Critics' Choice have all gone on to win the Oscar, so this may be an early sign of what's to come in March. Check out the full list of winners when you read more.
BEST PICTURE
The Hurt Locker
BEST ACTOR
Jeff Bridges, Crazy Heart
BEST ACTRESS
Tie: Sandra Bullock, The Blind Side and Meryl Streep, Julie & Julia
BEST SUPPORTING ACTOR
Christoph Waltz, Inglourious Basterds
BEST SUPPORTING ACTRESS
Mo'Nique, Precious
BEST ACTING ENSEMBLE
Inglourious Basterds
BEST DIRECTOR
Kathryn Bigelow, The Hurt Locker
BEST ORIGINAL SCREENPLAY
Quentin Tarantino, Inglourious Basterds
BEST ADAPTED SCREENPLAY
Jason Reitman and Sheldon Turner, Up in the Air
BEST ANIMATED FEATURE
Up
BEST YOUNG ACTOR/ACTRESS (Under 21)
Saoirse Ronan, The Lovely Bones
BEST ACTION MOVIE
Avatar
BEST COMEDY MOVIE
The Hangover
BEST PICTURE MADE FOR TELEVISION
Grey Gardens
BEST FOREIGN LANGUAGE FILM
Broken Embraces
BEST DOCUMENTARY FEATURE
The Cove
BEST SONG
"The Weary Kind" (Ryan Bingham and T Bone Burnett), Crazy Heart
BEST SCORE
Michael Giacchino, Up
BEST VISUAL EFFECTS
Avatar
BEST CINEMATOGRAPHY
Mauro Fiore, Avatar
BEST COSTUME DESIGN
Sandy Powell, The Young Victoria
BEST MAKEUP
District 9
BEST SOUND
Avatar
BEST ART DIRECTION
Rick Carter and Robert Stromberg, Avatar
BEST EDITING
Stephen Rivkin, John Refoua and James Cameron, Avatar