Full List of Winners For the 2010 Oscars 2010-03-07 21:37:14
Announcing the Winners: The 2010 Oscars!
What a night — and it was groundbreaking to boot! Avatar may be the big gun when it comes to special effects, but it was Kathryn Bigelow's The Hurt Locker that swept the two major awards of the 2010 Oscars with best picture and best director. Her win marks the first time a female director has ever won the honor, and I couldn't help but let out a gleeful "yes!" when her name was announced.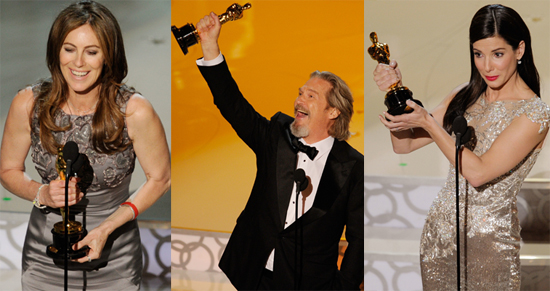 The rest of the categories pretty much stuck to the favored picks with Jeff Bridges taking the stage for Crazy Heart, Mo'Nique for Precious, Christoph Waltz for Inglourious Basterds — and in a tearful acceptance speech, Sandra Bullock accepted her best actress win for The Blind Side. That was one of my favorite highlights of the evening (check back later for the rest), but let's go ahead and cover all the night's winners. Head over to my Oscar polls to vote on whether you think each is deserving, but I've got the entire list for your perusal when you read more.
BEST PICTURE
The Hurt Locker
BEST DIRECTOR
Kathryn Bigelow, The Hurt Locker
BEST SUPPORTING ACTRESS
Mo'Nique, Precious
BEST SUPPORTING ACTOR
Christoph Waltz, Inglourious Basterds
BEST ACTRESS
Sandra Bullock, The Blind Side
BEST ACTOR
Jeff Bridges, Crazy Heart
BEST ORIGINAL SCREENPLAY
Mark Boal, The Hurt Locker
BEST ADAPTED SCREENPLAY
Geoffrey Fletcher, Precious: Based on the Novel "Push" by Sapphire
BEST FOREIGN FILM
The Secret in Their Eyes (El Secreto de Sus Ojos) (Argentina)
BEST ANIMATED FEATURE FILM
Up
BEST ACHIEVEMENT IN ART DIRECTION
Avatar
BEST ACHIEVEMENT IN CINEMATOGRAPHY
Avatar
BEST ACHIEVEMENT IN COSTUME DESIGN
The Young Victoria
BEST DOCUMENTARY FEATURE
The Cove
BEST DOCUMENTARY SHORT SUBJECT
Music by Prudence
BEST ACHIEVEMENT IN FILM EDITING
The Hurt Locker
ACHIEVEMENT IN MAKEUP
Star Trek
BEST ORIGINAL SCORE
Up
BEST ORIGINAL SONG
"The Weary Kind" from Crazy Heart
BEST ANIMATED SHORT FILM
Logorama
BEST LIVE ACTION SHORT FILM
The New Tenants
ACHIEVEMENT IN SOUND EDITING
The Hurt Locker
ACHIEVEMENT IN SOUND MIXING
The Hurt Locker
ACHIEVEMENT IN VISUAL EFFECTS
Avatar