Full Winner List of the 2010 People's Choice Awards 2010-01-06 20:41:04
Announcing the Winners: 2010 People's Choice Awards!
The 2010 People's Choice Awards just aired tonight, and I was right there on the red carpet. Aside from some press room shenanigans, the show was going on too, so here's what you're looking for: the winners! Carrie Underwood tripped on her way to accept a trophy, while Johnny Depp racked up two awards and the Twilight cast got a few more additions to their trophy cases (surprise, surprise).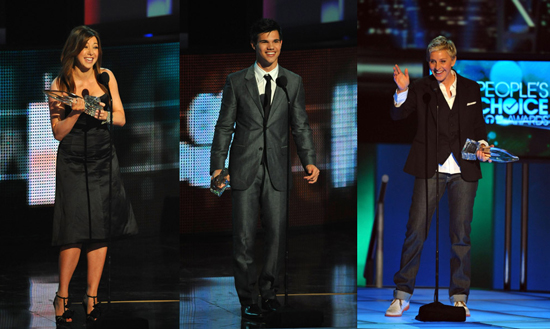 To see the full list of winners, just read more.
MOVIES
FAVORITE MOVIE
Twilight
FAVORITE COMEDY MOVIE
The Proposal
FAVORITE FAMILY MOVIE
Up
FAVORITE INDEPENDENT MOVIE
Inglourious Basterds
FAVORITE MOVIE FRANCHISE
Twilight
FAVORITE MALE MOVIE STAR
Johnny Depp
FAVORITE FEMALE MOVIE STAR
Sandra Bullock
FAVORITE ACTION STAR
Hugh Jackman
FAVORITE COMEDIC STAR
Jim Carrey
FAVORITE BREAKOUT MOVIE ACTRESS
Miley Cyrus
FAVORITE BREAKOUT MOVIE ACTOR
Taylor Lautner
FAVORITE ONSCREEN TEAM
Robert Pattinson, Kristen Stewart and Taylor Lautner, Twilight
FAVORITE MOVIE ACTOR OF THE DECADE
Johnny Depp
TELEVISION
FAVORITE TV DRAMA
House
FAVORITE TV COMEDY
The Big Bang Theory
FAVORITE TV DRAMA ACTOR
Hugh Laurie, House
FAVORITE TV DRAMA ACTRESS
Katherine Heigl, Grey's Anatomy
FAVORITE TV OBSESSION
True Blood
FAVORITE TV TALK SHOW
The Ellen DeGeneres Show
FAVORITE SCI-FI / FANTASY SHOW
Supernatural
FAVORITE TV COMPETITION SHOW
American Idol
FAVORITE ANIMAL SHOW
The Dog Whisperer
FAVORITE TV COMEDY ACTOR
Steve Carell
FAVORITE TV COMEDY ACTRESS
Alyson Hannigan
FAVORITE NEW TV DRAMA
The Vampire Diaries
FAVORITE NEW TV COMEDY
Glee
MUSIC
FAVORITE MALE ARTIST
Keith Urban
FAVORITE FEMALE ARTIST
Taylor Swift
FAVORITE COUNTRY ARTIST
Carrie Underwood
FAVORITE R&B ARTIST
Mariah Carey
FAVORITE ROCK BAND
Paramore
FAVORITE MUSIC COLLABORATION
Jay-Z, Rihanna & Kanye West, "Run This Town"
FAVORITE HIP HOP ARTIST
Eminem
FAVORITE BREAKOUT MUSIC ARTIST
Lady Gaga
FAVORITE POP ARTIST
Lady Gaga
FAVORITE WEB CELEB
Ashton Kutcher