GCB TV Show Interviews at TCA
Kristin Chenoweth and Leslie Bibb Talk About Playing Texan Women on GCB
New ABC series GCB stars Leslie Bibb as a woman who returns to her hometown of Dallas, TX, after her husband dies amid a scandal. Once she arrives, the women of her community, headed up by Kristin Chenoweth, don't exactly welcome her with open arms. These women are affectionately known as "good Christian b*tches," which was the original title of the show before it was changed to the current abbreviation. The show's creator Robert Harling came to the Winter TCA with the stars to address the title change as well as how much the female characters will be portrayed as good, Christian, or b*tches.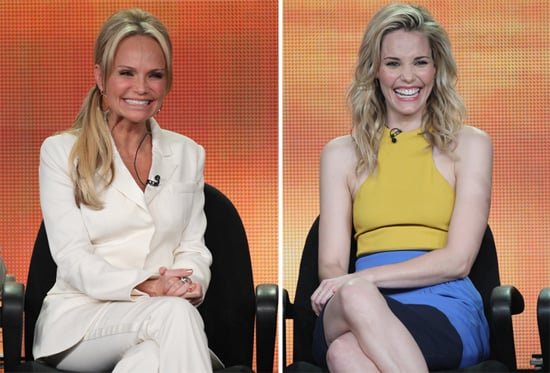 Harling addressed the title changes the series has already been through. Based on a book, the original title was Good Christian B*tches, which briefly became Good Christian Belles. Harling, who is from Texas, said that "belles" wasn't really appropriate for Texas, which is different than other parts of the South. When the idea of the abbreviation came up, Harling said that it fit in with the current usage of terms like LOL and FYI. He seemed happy with the current title, saying that "GCB stuck and we all thought it was cool."
Bibb, whose character Amanda was a mean girl in high school, talked about who's the meanest of the female characters now. Though Amanda seems to have left her bad-girl past behind, Chenoweth's Carlene is still intent on bringing Amanda down. Bibb says that they "all sort of set each other off in the show," and "everyone has a beautiful, great moment of being b*tchy."
Harling says that despite the implications on the title, these women are "motivated by a real sense of goodness." As for the Christian factor, Harling says that the show "will never, ever be disrespectful" to the religion.
Old-school TV fans will remember star Annie Potts from '80s TV show Designing Women, which Potts referenced in a very sweet way during the panel. Potts plays Bibb's mother Gigi on the show as a church-attending, gun-toting grandma who takes no guff from anyone. Potts was asked if she based her character on anyone she knew, and she said that Gigi is an amalgam of people, but there's "a lot of my beloved Dixie Carter in her."