G.I. Joe Retaliation Review
5 Reasons You Don't Need to See G.I. Joe: Retaliation
G.I. Joe: Retaliation is out in theaters this week after a bit of a delay, presumably to improve the movie, but after seeing it, I wonder how bad it was before. Filled with tanks, explosions, buff bodies, and 3D (the newest must-have accessory for action flicks), the sequel to 2009's G.I. Joe: The Rise of Cobra has all the elements of a great action movie. Unfortunately, it's a barrage of unintentionally hilarious dialogue from stars Dwayne Johnson and Adrianne Palicki, unbelievable gadgetry, and plot holes. Thankfully, there is some standout action, and yes, Channing Tatum appears, but it's not enough to constitute a trip to the theater. Here are my reasons for why you can skip this sequel.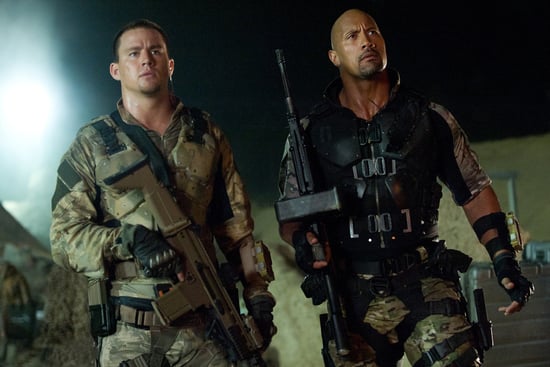 There's not enough Tatum. Don't be fooled by the trailer or the pictures, Duke (Tatum) is only on screen for about 20 minutes. Maybe it's because we know the film was held for a year in order to add more Tatum, but his scenes feel obviously shoehorned in. I felt robbed.
There's not enough

Bruce Willis

, either. When the soldiers are cornered, they turn to one of their own: the retired General Joe Colton (Willis). Willis is allowed to strut around and enjoy the fact that, after years in the suburbs, Colton's skills — and his arsenal of weapons hidden in kitchen cabinets — are needed. I just wish he had more (and longer) scenes.
The plotholes are too wide to overlook. This time around, the team is ambushed by an enemy posing as the president, and only three soldiers remain. Abandoned in the desert halfway around the world, Roadblock (Johnson), Lady Jaye (Palicki), and Flint (D.J. Cotrona) find their way back to the states. Presumed dead by the government, they lie low in Roadblock's old neighborhood and somehow acquire an entire stock of state-of-the-art technology, the kind that allows you to put a hair in a lipstick tube and have its DNA code analyzed and matched within seconds. You know, just the gadgets you have lying around.
See more of my reasons after the jump.
The 3D doesn't add anything. Apart from one excellent action sequence where a couple of the Joes battle evil ninjas while zip-lining and hanging off the edge of snowy mountains, the 3D is superfluous and unimpressive.
It's funny when it's not supposed to be. Roadblock puts on a dead-serious face and quotes Jay-Z while pumping up his team, and Lady Jaye has lines like, "I'll cyberblast an encoded beacon every six hours." By the time RZA turns up donning bushy gray eyebrows as "Blind Master," I was snorting with laughter. Sadly, none of those elements are meant to be jokes.