Game of Thrones Bad Lip Reading Video
A Game of Thrones Lip Reading, Creepy Cinderella, and More of What Made Us LOL This Week
Game of Thrones has inspired more than a few parodies, but this week's bad lip-reading video may just take the cake as the funniest of them all. Reimagined with all the characters working at a theme park called Medieval Land Fun-Time World, there are some priceless, laugh-out-loud one-liners that make it a must see. We also found ourselves cracking up over a Cinderella and Carrie mashup, plus squirrel superheroes, a singing sloth, and Saturday Night Live's "Boy Dance Party." Take a look at the most hilarious videos and pictures to hit the Internet this week:
Game of Thrones as a Theme Park
The latest in the Bad Lip Reading series brings us Game of Thrones, this time reimagined as a hilariously lame, perfectly spot-on theme park called Medieval Land Fun-Time World. Between Joffrey's high-pitched voice and the laugh-out-loud one-liners, it may just be the best Game of Thrones viral video yet.
A Singing Sloth
Combine Disney's sweet Cinderella trailer with the music from the new Carrie trailer and you get one creepy, haunting mix. You may never look at the Disney princess the same again.
Keep reading for more funny pictures and videos.
Boy Dance Party
With a nod to our her old Jessie Spano days, Elizabeth Berkley danced to "I'm So Excited" on Dancing With the Stars this week — complete with an opening sequence that brought back her "I'm so . . . scared" line.
Superhero Squirrels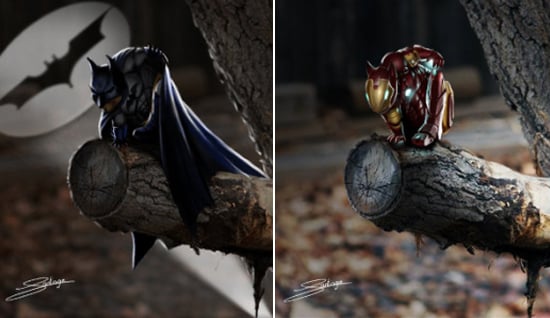 So random, so good — artist Santiago Perez created a series of digital paintings that transform a normal squirrel photo into a bunch of superhero portraits.
Christopher Columbus's Story?
Jimmy Kimmel brought his camera crew to Hollywood Boulevard to ask people about the story of Christopher Columbus. Apparently most Americans don't pay too much attention in history class.
A Song About Chinese Food
The guys behind Rebecca Black's "Friday" have now presented artist Alison Gold with the song "Chinese Food." The inspired chorus goes as follows: "I love Chinese food/ You know that it's true/ I love fried rice, I love noodles/ I love chow mein/ Chow me-me-me-me-mein."