Game of Thrones Comic-Con 2013
Game of Thrones at Comic-Con: Red Wedding Grief and Emilia Clarke's Emmy Surprise
One of Comic-Con's most anticipated panels was Game of Thrones, and it did not disappoint. The showrunners, author George R. R. Martin, and lots of cast members were on hand, including Kit Harington, Peter Dinklage, Emilia Clarke, and Rose Leslie. Obviously, the Red Wedding was a hot topic of the panel, especially since Richard Madden and Michelle Fairley were also there. It wasn't just a big grief counseling session, though — there was celebration, too. Dinklage and Clarke were praised for their recent Emmy nominations, and there was no shortage of surprises, either. We were treated to a funny and sad "In Memoriam" video — and halfway through, former cast member Jason Momoa ran on stage and gave Clarke a big kiss. Keep reading to get more details on those moments and the other highlights!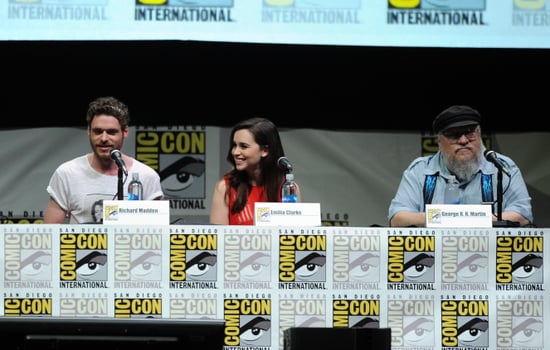 An "In Memoriam" video set to Boyz II Men's "It's So Hard to Say Goodbye to Yesterday" kicked off the panel, showing pretty much everyone who's ever been killed on the show (so, yes, it was pretty long). Though we revisited some of the goriest kills, we were spared from seeing Red Wedding footage and Ned's beheading — and instead we saw the greatest hits of those characters.
Martin was taken to task for killing off so many characters, and he joked that he creates "job opportunities for actors and actresses" and mentioned that some character deaths are at the discretion of showrunners D.B. Weiss and David Benioff. He added that he would only take "some of the bloodthirsty blame."
Madden (who was treated to chants of "King of the North") had previously talked about crying on the plane after shooting the Red Wedding and leaving the show, and he added that he was also "ordering multiple drinks." Madden admitted that he's feeling the loss right about now: "It's July, and I think I should be doing something [and realizing], 'Oh I'm supposed to be doing Game of Thrones.' So I'm missing it."
Fairley was blunt about not being shocked about her character's death: "I knew how many years I signed for, so I knew it was coming."
Clarke got a round of applause for her Emmy nomination, but she said that she didn't expect it, "never in a million years." She admitted she hoped to see nominations for the showrunners, and she found out about her own nod when someone from HBO called her, mentioning it took them three phone calls to convince her.
Clarke and the audience got a fun surprise during the panel when Clarke's former onscreen husband Momoa (aka Khal Drogo) ran on stage suddenly and planted a big kiss on her! After he left, Clarke exclaimed, "My sun and stars!"
Martin didn't give us any scoop about his next book, but the literary source material was much discussed. On whether he had read the books, Dinklage said no, but he will someday. "In four or five years when this is all over, I want to go back and read all the books. I don't want to know what's coming. I want to know what's happened, but I don't want to see what's coming."