Game of Thrones Comic-Con Panel
The Game of Thrones Cast Kicks Back and Breaks Character at Comic-Con
It's no surprise that Game of Thrones had a huge turnout at Comic-Con today, given the show's explosive first season. Fans were treated to a panel featuring a handful of the show's stars: Lena Headey (Cersei Lannister), Emilia Clarke (Daenerys Targaryen), Peter Dinklage (Tyrion Lannister), Kit Harington (Jon Snow), Nikolaj Coster-Waldau (Jaime Lannister), Jason Momoa (Khal Drogo), and creators David Benioff and D.B. Weiss. The icing on the cake was that the panel was moderated by the man himself, George R.R. Martin, who authored the series on which Game of Thrones is based.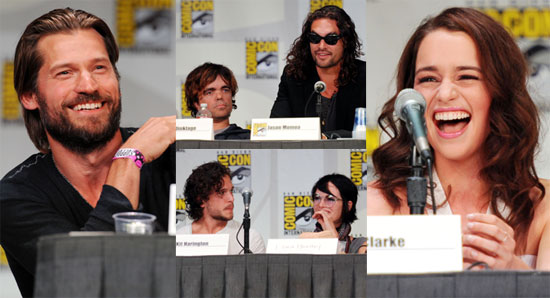 Half the fun of the panel was seeing the actors out of their crazy costumes (Headey was practically unrecognizable) and showing off personalities that are far different from what we see onscreen. Jason Momoa was particularly colorful, teasing Martin about killing off his character and stealing the spotlight whenever he could. Here are more highlights from the panel:
Clarke was plucked right out of drama school for this role, but apparently her classes weren't much help preparing her. She said, "There are no dragons in drama school. The thing that prepared me for this was Dany, and falling in love with her."
Cersei is definitely the character fans love to hate, and apparently Headey's skin isn't as thick as she had initially thought. She quipped, "It's fun to play a character who isn't trying to be morally good, but people come up to me and say 'I hate you.' It's kind of horrible, I thought I could handle it. I love her, I think she's misunderstood."
Momoa was presented with the tough question of pitting Khal Drogo against his other onscreen personal, Conan the Barbarian. He took the opportunity to kiss up to Martin saying, "Between you and me, Drogo would kick Conan's ass."
Apparently Harrington isn't ready to be a pin-up just yet, saying that the idea of girls having posters of him "scares the crap out of me."
Don't expect to see any deleted scenes on the DVD release of the first season: the showrunners said they used pretty much all the footage they had, but fans will get to see the audition tapes of certain cast members.
See more fun highlights when you read more.
Apparently some booze and pizza were all Momoa needed to master speaking Dothraki. When asked how he came up with the sound of the language, he quipped, "Actually when I went to the table reading, David and Dan pulled me aside and said it was a good idea to make this language since there was no way this whole tribe would learn to speak English. It literally sounded like Jabba the Hut and Fozzie bear. I was like, I really want this job! I'll do anything. So I went back to my hotel, ordered some pizza and a lot of Guiness, and the next thing you know. . ."
Coster-Waldau couldn't resist joking that his favorite scene is when Jaime pushes Bran, but then quickly changed his answer. He said, "Isaac [Hempstead Wright] was really annoying, so pushing him [was my favorite scene]. . . No no, Isaac is the sweetest kid, it was just a joke. I really like my last scene with Catelyn, it was great to do that."
Dinklage also revealed his favorite scene: "When I'm on trial, that was fun, because it was a long day and there were a lot of extras in that scene, and i felt like a master of ceremonies for a bunch of bored extras. It was entertaining off screen so that was fun."
After Ned Stark's shocking death, it was inevitable that Martin would have to field questions about why he kills off major characters in his novels. He said, "I've always believed that I want people emotionally involved, and when they're in a dangerous situation, I want the readers to be almost afraid to turn the page not knowing who's gonna win and who's gonna die. We've all seen books and movies when the heroes are in deep trouble, but you know he's gonna get out of it and those are fun, but they don't involve your emotions and that's what I'm looking for.
Both Harington and Dinklage couldn't resist joking when asked how they'd like the series to end; Harington remarked "I want Jon Snow to be on the throne, definitely", while Dinklage simply said "Dance number."
The creators wouldn't give away too much about what to expect from next season, but they did mention that season three wouldn't correspond as closely with the book series because A Storm of Swords is so long. They also teased that we'll meet new characters like the Red Priestess and Stannis Barantheon, and that the dragons and wolves will start growing up. Overall, we should expect a "season of exploration."